Remember - modern cartridge weapons fall under ATF restrictions. If you are a Tennessee resident 18 years of age or older you can stop by the store and after a "clear" background check you can buy any of our modern weapons. If you are out of state we can ship to your local (current FFL holding) dealer and they can do your background check there.
WE TRADE FOR
ALL TYPE OF FIREARMS ANY ERA!
---
LF WITNESS .45ACP MAG.




Brand new factory LF WITNESS magazine still in the plastic.



LF WITNESS MAG. .45 ACP $19.95 BUY NOW!




---
20 ROUND MINI-14 MAG.




Brand new factory Ruger 20 round magazine still in the plastic.



20 ROUND MINI-14 MAGAZINE $54.95 BUY NOW!




---
20 ROUND AR-15 MAG.




Brand new AR-15 20 round magazine, American made thermo plastic. Marked "Law & Govt. use only", Of course that no longer applies.



20 ROUND AR-15 MAGAZINE $29.95 BUY NOW!




---
TRICKED OUT AK




Is that sweet or what? Sometimes you just need a large caliber bullet and a high capacity mag, or two or three. Right now I've got some Romanian AK's. I've got the "Plain Jane" with original wood furiture and one 30rd. Mag. for $529.95. Or I've got the "CQB" with M4 style stock, Houge pistol grip, quick-release scope mount, red/green 1x scope, Hand gaurd with top and bottom rail, forward pistol grip and one 30rd Mag for $795.95 both shoot the 7.62x39.
I can take the "Plain Jane" and add as many or as few upgrades from the "CQB" as you want. Also availble: Tapco Comosite 20rd. Mag for lower profile $19.95 Tapco Folding stock $ 39.95
If you would like something else call or email Phil.



TRICKED OUT AK #001R $795.95 TEMP. OUT OF STOCK!




---
ROMANIAN AK




Plain Jane Ak" What you get: Original wood furniture, (stock and hand guard). Romanian receiver with "quick-release style" scope mount rail already attached to the receiver. Slanted muzzle break to reduce barrel "jump" while shooting. This is a great rifle to buy and add all the goodies you want. You can also keep it like it is for a great piece of history that's also a heck of a shooter. Comes with one 30 round magazine.



ROMANIAN AK #001R1 $529.95 TEMP. OUT OF STOCK!




---
MOSIN SPORTER




Mosin Sporter, A pre-war barrel and bolt, dropped in a monte carlo stock with bipod. Long eye relief scope with bikini caps. Butt stock cartridge holder. Shoots a 7.62x54 - Extremely accurate rifle, they took Stalingrad back from the Germans using this round. I would say this is the best deer rifle you can buy for under $300.00

Now if you want to see just what this model rifle can do at 1000 yards (yes - I said 1000) then click on this link.


1000 YARD SHOT

Just click the back button to return here.




MOSIN SPORTER #007R $295.95 TEMP. OUT OF STOCK!




---
MOSIN NAGANT




Classic Mosin Nagant. Pre-war Finish, wood stock. Shoots the 7.62x54. Rifle come with sling, oil bottle, cartridge pouch, and bayonet.



MOSIN NAGANT #008R $179.95 BUY NOW!




---
USED KNIGHT INLINE .50 CAL.




Used but well taken care of Knight inline .50, comes with everything you see as well as a bag of goodies. Good shooter. No background check required on muzzle loaders and we can ship to most states.



KNIGHT .50 #00 $249.95 BUY NOW!




---
ROCK ISLAND .45




I can't say enough about this pistol. If you want a stellar traditional style 1911 .45 ACP at the best price going this is it. You really have to shoot one to appreciate it. Standard 1911 parts fit so you never have to worry about parts. Comes with one 8 shot magazine. This is one tight pistol.



ROCK ISLAND .45 #006R WOOD GRIPS $495.95 BUY NOW!

ROCK ISLAND .45 #006R RUBBER GRIPS $515.95 BUY NOW!


WWII M7 STYLE SHOULDER HOLSTER


WWII M7 STYLE SHOULDER HOLSTER NATURAL BROWN #006R-H $39.95 BUY NOW!
---
HI-POINT .45 ACP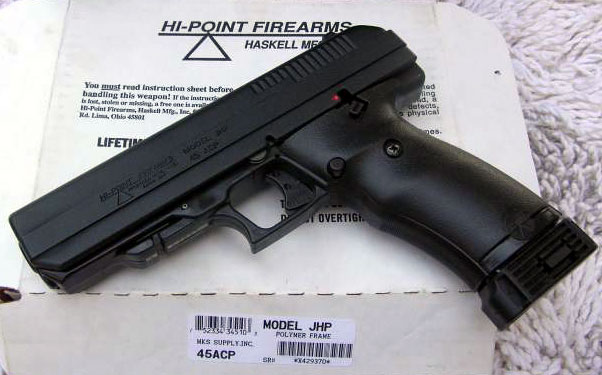 You just can't beat this gun for the price. They are heavier thicker than your traditional 1911 but they shoot great, they are reliable and accurate. All Hi-Point firearms carry a lifetime, no-questions asked warranty. Whether you are the original purchaser, or the third-hand owner, your Hi-Point firearm will be repaired free of charge. I don't know of any other company that offers that. Todd says has experience with Hi-point and they really do what they say. Remember, when you knock em down with a .45 - they stay down.



HI-POINT .45 ACP #004R $199.95 BUY NOW!




---
RUGER 10/22 CARBINE




It's hard to beat a Ruger 10/22 for all around versatility. They are light weight, accurate and compact. Any one can become a great marksman with one of these. When I teach my grand-daughters how to shoot this is the gun they will learn on. If I was going squirrel hunting this is the gun I would grab on my way out the door. Close range Zombie killin - this is your gun. An inexpensive gun that is reliable and cheap to shoot. What else could you ask for? Comes with the standard 10 shot clip.



RUGER 10/22 CARBINE #002R $249.95 BUY NOW!

RUGER 10/22 30 ROUND CLIP #002R-30 $29.95 TEMP. OUT OF STOCK!

GREEN GUN SOCK #002R-31 $9.95 BUY NOW!

THIS IS WHAT THEY LOOK LIKE TRICKED OUT




CALL FOR PRICES ON THIS MODEL.
---
RUGER MARK III PISTOL




This is my favorite .22 LR target shooting pistol, well balanced easy to shoot and very accurate. I have a Mark II that I have shot thousands of rounds through and never done a thing to it except keep it clean and oiled.



RUGER MARK III #003R $249.95 BUY NOW!




---
PHOENIX .22LR




Here's a great light weight, drop in your pocket .22 LR Shoots great, accurate and I've not been able to make one jam yet. I love the weight on these, great for ankle holsters or your wife's purse. It comes with a 10 shot clip. I can put all ten shots in a Coke can from 10 paces away. How much do I like the pistol? I've got one in a pocket holster right now as I type this.



PHOENIX #005R $149.95 BUY NOW!





---


Click here to see
Musket Accessories
on page TWO Of the Blockade Runner Catalog.

Click here to refer back to catalog INDEX page.



www.blockaderunner.com

Phone: 931-389-6294 Fax: 931-389-0486

---
This site designed and created by Blockade Runner Publishing
Copyright © 2014 - No portions of this website may be redistributed in any form without expressed written permission from
Blockade Runner Inc.