CONFEDERATE DOUBLE TONGUE BUCKLE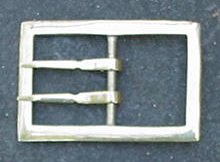 You seldom find anyone offering this buckle for sale. It's always been a favorite of mine. Recently, (2007) several of these were unearthed on part of the original Battle of Murfreesboro site where a shopping mall was being built. That was all the excuse I needed to have these "made up". I hope you like them as much as I do. If you would like to see one of the recently found originals, just go to our links page and click on the Rutherford County Boys link. If you know your relics, Mullinax's book, Confederate Belt Buckles & Plates (1991, first eddition) list these as a rariety 7.



DOUBLE TONGUE BUCKLE, (BUCKLE ONLY)
ITEM # 270-D $14.95 BUY NOW!





DOUBLE TONGUE BUCKLE sewn on a 40 inch black leather belt
Item # 270-D-40 $29.95 BUY NOW!

DOUBLE TONGUE BUCKLE sewn on a 50 inch black leather belt
Item # 270-D-50 $34.95 BUY NOW!
---
CONFEDERATE CAP POUCH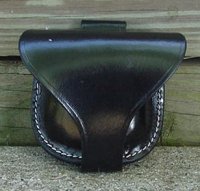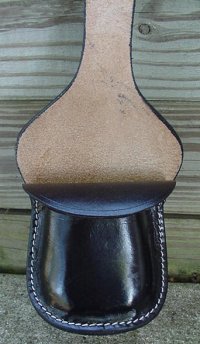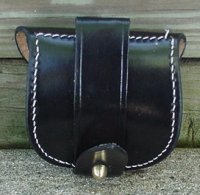 Confederate model black leather cap pouch. This Cap Pouch is an exact replica of the most common style of Confederate Cap Pouch known. It has the one belt strap loop that is so common of all Confederate styles. The outer flap come over and fastens underneath. The leather is top quality cow hide and the quality of construction is excellent. You will not be disappointed. If you are a little tired of carrying generic leather gear maybe it's time for a change?



CONFEDERATE BLACK LEATHER CAP POUCH
ITEM # 32-A $19.95 BUY NOW!




---
FLAG CARRIER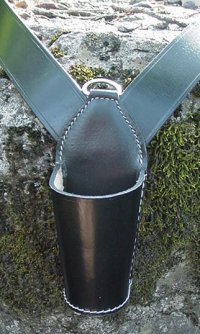 If you've ever been the flag barer on a long parade you know just how important this simple little item is. Our sling is made from top grain leather with a iron roller buckle and has about 8 inches of adjustment so you get that "just right" fit regardless of your height. The socket is large enough to fit any normal flag staff. The sling is also contoured to fit comfortably on the back of your neck without digging in. If you are your company's standard barer take my advice and don't wait for the company to pay for this. Order it yourself, it's worth the price.



FLAG CARRIER #2296 $29.95 BUY NOW!




---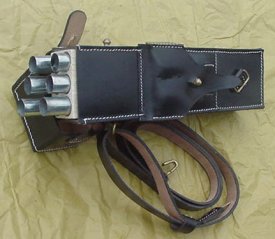 SPENCER REPEATING RIFLE CARTRIDGE BOX & SLING
Every once and a while you see a reproduction that makes you step back and look again. This cartridge box is one of those reproductions. It looks great!
If you own a Spencer you have probably already looked around for one of these. Can you believe some companies are asking $200.00 each, American, not pesos! I'll put the Blockade Runner box up against theirs any day. Stitch for stitch I think ours may be a little better.
The photo shows the box resting on it's top to expose the 6 tubes. It has an implement pouch just like the original and the sling is included, not an extra added expense. And yes it does have the belt loop on the back. The box measures 13 inches long and approx. 2 x 3 inches wide. The leather, the stitching and the hardware are all first rate. I think you'll agree.
But the best part may be the price. Only $99.95



SPENCER CARTRIDGE BOX & SLING
# 2196 $99.95
BUY NOW!




SPENCER REPEATING RIFLE HAND BOOK
The Spencer repeating rifle hand book. Published by the company it contains several detailed drawings of the spencer and its mechanics. Complete list of prices and parts list. It also includes many testimonials from soldiers in the field trumpeting the glory of the Spencer repeater. Its first trial by fire by a brigade was at the Battle of Hoovers Gap Tenn. by Wilder's Lightning Brigade. The rifle the Confederates said "the Yankees can load it on Sunday and shoot it all week."



SPENCER REPEATING RIFLE HAND BOOK
#680 $6.95
BUY NOW!




---
CONFEDERATE COPY ENFIELD FROG

This is the best Enfield bayonet frog for the triangular 3 band Enfield style bayonet we have ever been able to offer. Made from the best in high quality leather and cut to the exact measurements of an original, this repro is first rate! A very inexpensive little item that will be a big help in improving your impression.



CONFEDERATE COPY ENFIELD BAYONET FROG ITEM # 2079 $19.95 BUY NOW!




---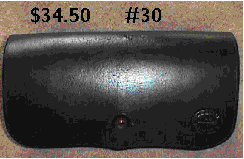 CAVALRY CARBINE CARTRIDGE BOX
Black leather made just like the originals.

#30 $34.95 BUY NOW!
---
KEPI / BUMMER CHIN STRAP W BRASS BUCKLE
#50 $5.95 BUY NOW!
---
SPUR STRAPS
24 inches long fits your average guy. They can easily cut down to any length for smaller folks.

#51 $11.95 BUY NOW!
---
BLANKET STRAPS
18 inches long. These work great with the double bag knap sack or if you are just making a blanket roll to throw over your shoulder.



BLANKET STRAPS #52 $11.95 BUY NOW!




---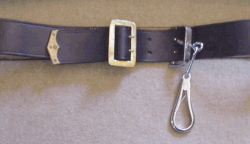 CARBINE SLING WITH SNAP
This sling goes over your shoulder and clips to the ring on your carbine, then you insert the barrel into the carbine boot to hold it in place while not in use. In battle if you have to drop your carbine and grab your saber, the carbine won't hit the ground. The sling is 72 inches long and does have the brass "bat wing" tip on the end of the belt. I have a shorter model for you middle earth types (like me) if you need one. Be sure to let us know if you need the shorter model. Otherwise we will send you the standard 72 inch sling.



CARBINE SLING W SNAP #53 $34.95 BUY NOW!

BELT ONLY ITEM #XX4 $24.95 BUY NOW!

SNAP ONLY ITEM #422 $14.95 BUY NOW!




---
CARBINE BOOT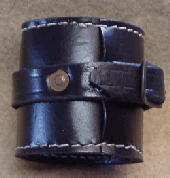 A carbine socket is that little round gizmo that straps onto your saddle near the stirrup. When your carbine is not in use you just stick the barrel of it into the center of the "socket" to keep it from beating your leg black and blue. It's a pretty handy little item. It's hard to use your carbine sling without one.



CARBINE BOOT # 45 $9.95
BUY NOW!




---
LEATHER SHOE LACES
Fit all standard brogans

#281 $1.00 pr. BUY NOW!
---
GAYLORD STYLE HOLSTER

Our new Gaylord style holster is made to the exacting detail of the original. Every stitch right down to the 3 piece construction with the end cap sewn in. Fits all standard period side arms, 1851 colt navy, 1860 Colt army, 1858 Remington New Army etc. etc.

Comes in right hand butt forward only. That's all the army ever issued. Top grade leather made by superior leather craftsmen to the original specs right down to the Gaylord Co. stamp. If you're looking for the best here it is.



GAYLORD STYLE PISTOL HOLSTER ITEM # 35 D $29.95 BUY NOW!




---
PISTOL HOLSTERS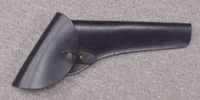 Right hand butt forward (sets on your right hip) is what's called for if your wearing a saber. This holster is made from top grade cow hide and is guaranteed to hold its shape. It fits any of the common pistols Colt or Remington .36 or .44 cal. It will not fit a Lamatte or a Dragoon.



RIGHT HAND BUTT FORWARD (SETS ON YOUR RIGHT HIP)
#35-A $22.95 BUY NOW!

LEFT HAND BUTT FORWARD (SETS ON YOUR LEFT HIP)
#35-B $22.95 BUY NOW!



There has been some confusion in the past about which holster is which. For a saber belt you always get a right hand butt forward. This sets on your right hip with the butt forward. Why? Because all saber belts are set up with the saber on your left hip. They must be drawn with your right hand. There is no such thing as a left handed trooper, never was. Now that you have a saber in your right hand the only way to draw your pistol is with your left thats why the holster sets on your right hip with the butt forward.

If you want to put a holster on your belt so you can draw right handed like a cowboy you want a left handed butt forward so when it's worn on the right hand side the pistol butt will be to the rear. Simple huh?


---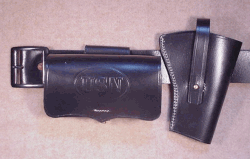 US NAVY BELT RIG
Here's a great new black leather navy belt rig. Made from high quality heavy black leather using superior construction techniques by skilled leather craftsmen. This rig is identical to the original and is sure to give you years of service regardless of how tough the conditions. They're really made to last! This belt rig includes holster, U.S.N. marked cartridge box with a 42 inch long belt (that's easily sized down) with the correct black iron buckle affixed. Just the thing to complete that U.S.N. or C.S.N. impression.
Available by the piece or by the set.



HOLSTER # 866-H $22.50 BUY NOW!

WAIST BELT & CORRECT BUCKLE # 866-B $14.95 BUY NOW!

CARTRIDGE BOX # 866-C $34.95 BUY NOW!

COMPLETE SET ITEM # 866 $69.95 BUY NOW!




---
PISTOL CARTRIDGE BOX
Black leather. This cartridge box is copied directly from an original. It will fit on your regular waist belt along with your cap pouch and holster or your saber belt.



#31 $24.95 BUY NOW!




---


CIVIL WAR ERA WALLET
This is a four compartment wallet that is an exact copy of an original in our collection. When we bought the original it still had an I.O.U. in it dated 1858. Our wallet measures 5 3/4 " x 3", fits easily into any pocket and is less likely to fall out than those larger bulky wallets. "It's a two handed job just to put one of those bulky things in your pocket!"
Our wallet is made from top grade finished cow hide and is very well made. It has a natural leather finish that can be easily dyed to any color using ordinary shoe dye.



ITEM #42 WALLET, BROWN LEATHER COLOR $11.95 BUY NOW!

ITEM #42A WALLET, NATURAL LEATHER COLOR $11.95 BUY NOW!

ITEM #42B WALLET, BLACK LEATHER $11.95 BUY NOW!




---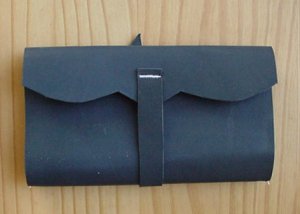 LEATHER BOUND NOTE BOOK
This super leather bound note book fits easily into your haversack, it works great for sending dispatches in the field or in camp. It has a strap type closer that was very popular during the period. It comes with 30 sheets of paper sewn in that replace easily. 6 x 8 inches. Made from top quality black leather.



BLACK LEATHER #43 $12.95 BUY NOW!



---
CEDAR PENCILS
No paint, no eraser, just like the originals.

#365 $0.50 BUY NOW!
---
GAUNTLETS, OFFICERS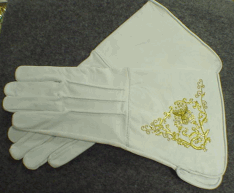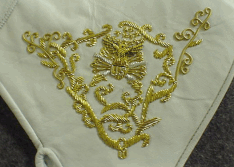 Soft white leather Officer's Gauntlets, fine stitching with gold embroidered eagle on the cuff. These fantastic looking gloves will add flare to any officer's impression.



SMALL #37C $39.95 BUY NOW!
MEDIUM #37 $39.95 BUY NOW!
LARGE #37A $39.95 BUY NOW!
X-LARGE #37B $39.95 BUY NOW!




---
ENLISTED MAN'S GAUNTLETS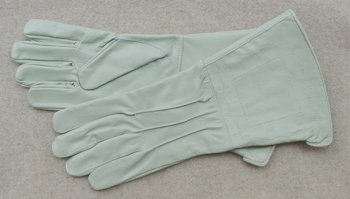 These are sometimes used by officers in the field but more commonly seen on enlisted cavalry troopers right up through the Indian wars.



SMALL #36C $29.95 BUY NOW!
MEDIUM #36 $29.95 BUY NOW!
LARGE #36A $29.95 BUY NOW!
X-LARGE #36B $29.95 BUY NOW!




---
BAYONET SCABBARDS
1853 ENFIELD SCABBARD #38 $19.95 BUY NOW!

FROG FOR ENFIELD SCABBARD #39 $11.95 BUY NOW!

1842 SPRINGFIELD 2 RIVET SCABBARD #40 $29.95 BUY NOW!

1861 OR 63 SPRINGFIELD SCABBARD #41 $19.95 BUY NOW!
---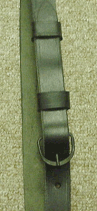 LEATHER CANTEEN SLING
This leather canteen sling is by far the best I have ever seen on the market. I really like the black iron buckle. The sling is made from 2 pieces of top grain leather that are scarft, overlapped and stitched together. The stitching is great and it's long enough for even the tallest guy. Short guys like me may have to cut a little off the end to make your canteen ride correctly. We show this sling being used on a 1858 smooth side canteen. There are a couple of period photos showing filter canteens with leather slings. But this is by no means the only correct use for this sling. We do not sell filter canteens. The spout for the rubber hose just breaks off too easily as was the problem on the original.



LEATHER CANTEEN SLING #322 $19.95

BUY NOW!




---


Click here to see
CANTEENS
on page ELEVEN-A in the Blockade Runner catalog!!!!

Click here to refer back to catalog INDEX page.



www.blockaderunner.com

Phone: 931-389-6294 Fax: 931-389-0486

---
This site designed and created by Blockade Runner Publishing
Copyright © 2013 - No portions of this website may be redistributed in any form without expressed written permission from
Blockade Runner Inc.