SETTING UP CAMP
We recently received this excerpt from a previously unpublished diary. The diary belonged to Henry Campbell, a young bugler of the 18th Ind. light Artillery under the command of Eli Lilly. This "short" is from June 23, 1863. The first day of the Tullahoma Campaign.

June 23, Have just finished clearing up and completing one of the most cheerful and comfortable camps we ever established. Our horses and quarters are always in the shade, the sun can't penetrate through the thick foliage that hang over our camp. Boys have fixed up their dog tent homes in the highest style of art that a soldier can invent with the very few materials he has to work upon. We made "bunks" that out done the sailors hammock. They were formed by driving forks into the ground the size of your bunk then running two poles through coffee sacks and resting the ends in the forks. J. Binford and I, who tented together made a double bed of this description by running a pole up through the middle. It worked very well except when one got out of bed before the other did it had the disagreeable habit of letting you down on the ground, or if you rolled about any in the night it stirred the other side of the house up like a wagon on a corduroy road.

This was sent to us by Mr. Richard Young who is currently working on a book which will center upon Eli Lilly.


---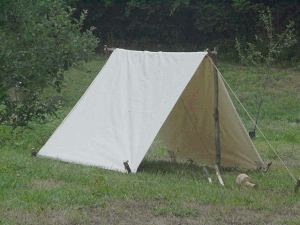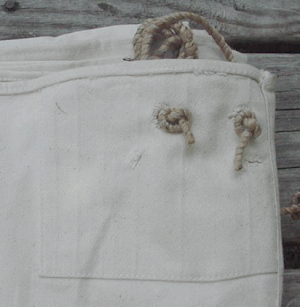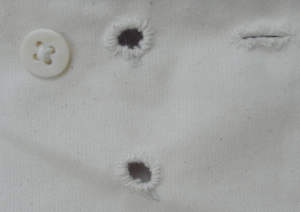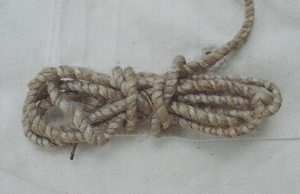 FEDERAL CIVIL WAR SHELTER ½ TYPE II
or
"TENTE D ABRI"
We hope that we have given you enough photos to compare our shelter half with any other makers or photos of the originals still in existence. The type II (cotton drill with bone buttons) is an early war tent, circa 1862/63. Our shelter half will button with any other makers shelter half that has been made to the original pattern.
Our shelter measures 65 inches long by 63 inches wide. It is made of 100% cotton drill. All the buttons are natural color bone, 5/8 of an inch in diameter. All button holes and grommets are hand sewn. The tent itself is machine sewn as per the originals. Yes, even the Schuylkill arsenal accepted shelter halves that were machine sewn. The rope for stake loops and tie off is made of 100% hemp.
Each shelter half weighs 2 1/2lbs. It takes two shelter halves to make the tent in the top left photo. Our shelter half is made as close to the original as we can possibly make them. We think you will like it as much as we do. If you don't already have it you may want to get a copy of Frederick C. Gaide's new book "The Federal Civil War Shelter Tent". It is without a doubt the most comprehensive work ever done on the subject.



FEDERAL SHELTER 1/2 TYPE II
# 971 $69.95 PER HALF BUY NOW!




---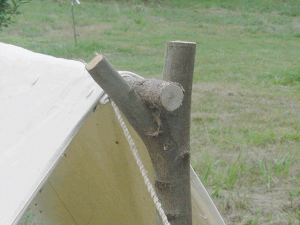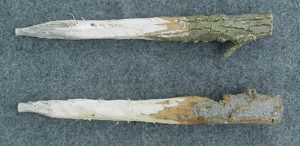 SET UP KIT FOR FEDERAL SHELTER ½ TYPE II
The set up kit for the Federal shelter half type II contains two saplings with forks at the top 50 inches long, one ridge pole made from a sapling 6 feet long, and 6 hand hewn tent pegs made from various hardwoods 12 inches long by at least 1 inch in diameter. There will be a small limb left on them to prevent the rope from slipping over it or a notch cut into the stake for the same reason. The upright poles can be shortened to give you a wider area at the bottom of the tent. The tent shown in the photo above (top of the page) has our standard 50 inch uprights which makes the width at the bottom of the tent is 70 inches. Be advised, the taller the upright, the steeper the angle of your roof, this means fewer "drips" during a rain storm.



SET UP KIT FOR FEDERAL SHELTER ½ TYPE II
# 972 $44.95 BUY NOW!




---

From the book, "On the Field and by the Campfire". The letters, diary and documents of Pvt. Jeff Wetzel, Musician, Co. I, 107 Regt. Ill. Vol. Inf. Page 64.
Saturday, July 2, 1864 (Somewhere near Kenesaw Ga.); We pitched our "dog tents" to shield us as much as possible from the hot sun.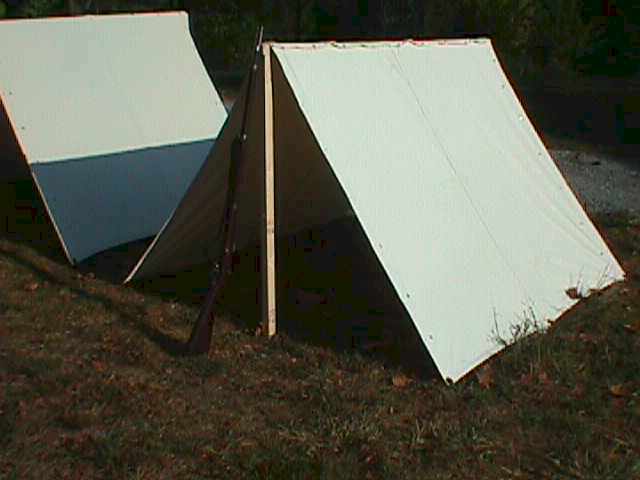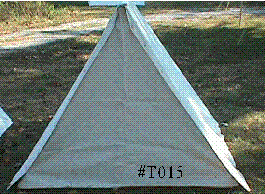 SHELTER HALVES 1864 MODEL
Made just as the originals. Untreated Canvas. 5'5" square. These tents were given the nick-name "dog tents" by the troops because they said that they looked like dog houses. The boys would take a piece of charcoal from the fire and write things like "bull pups for sale" on the side of them.
It takes two shelters buttoned together to make a dog tent. One half can be used alone as a lean to. Both ends will accept triangle end pieces if you want to close your dog tent in completely.

1864 SHELTER HALF #T013 $29.50 PER HALF BUY NOW!




---
COMPLETE SET UP KITS AVAILABLE
OCTAGON TENT POLES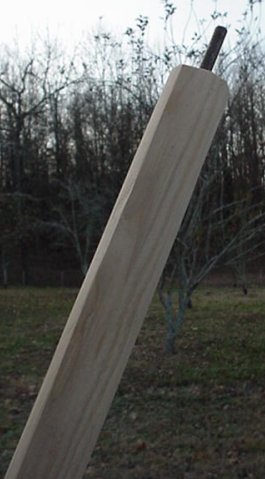 I'm sure that you have noticed that in many of the original photos of Civil War era officer's tents that the upright poles are 8 sided. That fact was not lost on us but until a recent expansion of our wood shop we just did not have the room to manufacture these poles. We do now.

We are very happy to offer all of our upright poles in the octagon design. They are quite a bit more difficult to produce, time consuming as well but we thought the least we could do is to offer you a choice.

Each of these poles has to pass through a table saw 5 times. Then each of the 8 sides must be sanded, last but not least each pole is coated with a light oil and allowed to dry for a day. This is done twice to make sure each has absorbed as much oil as possible to help prevent warping. This process does not eliminate warping altogether but it does help.



7 FT. OCTAGON TENT POLE
ITEM # 2529 $19.95
BUY NOW!

6 FT. OCTAGON TENT POLE
ITEM # 2529-A $17.95
BUY NOW!

4 FT. OCTAGON TENT POLE
ITEM # 2529-B $9.95
BUY NOW!




---
SET UP MADE FROM 2X2 INCH PINE, THIS INCLUDES 6, 12 INCH LONG STAKES.
#T026 $29.95 BUY NOW!

TENT STAKES, 12 INCHES LONG.
# T028 $2.95 BUY NOW!


---
SHELTER HALF ENDS
SHELTER HALVE END FOR 1864 MODEL
UNTREATED CANVAS. END PIECES BUTTON ON TO DOG TENT TO MAKE RAINY OR COLD WEATHER IN THE FIELD A LITTLE MORE COMFORTABLE.

SHELTER HALF ENDS #T015 $19.95 EACH BUY NOW!


---
TIP
DON'T DRIVE STAKES THROUGH GROMMETS ON DOG TENT. MAKE A LOOP WITH A SMALL PIECE OF ROPE, THEN DRIVE THE STAKE THROUGH THAT. SURE YOU LAUGH NOW BUT I'VE SEEN IT DONE!


---
DINING FLYS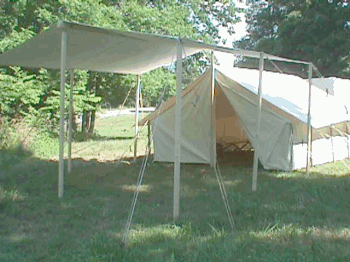 The dining fly in the photo on the right measures 12 ft. By 12 ft square. That's the norm when you're talking tent flys. It has nine 3/8 grommets, one on each corner. One half way in between each corner and one in the center of the fly. Everywhere there's a grommet the fly is re-enforced by 4 layers of canvas.

This is a free standing set up using our 8 pole and ridge. Go to the bottom of this page to read why I prefer a free standing fly set up.

If you wish to attach your fly's ridge pole to your tents it will require a grommet in the peak of your tent. We are glad to do this for you but a small fee is required.



ADD GROMMET TO TENT TOP $19.95 BUY NOW!





12'X 12' TENT FLY #T016 $169.95 BUY NOW!

12 FT. BY 15 FT. FIRE RETARDANT #T056 $199.95 BUY NOW!



Notice that in the photo above right there is also a fly over the wall tent itself. If you look at many of the original c.d.v.'s of wall tents set up in the field you will see they often use this technique. It measures 12 X 15 and it over hangs the tent by about a foot on each side. This keeps the sun off your tent longer by providing an overhang. (Notice the shadow on the side wall of the photo). It also runs the rain and the splashing mud a foot further away from your tent as well. This is a great way to protect your tent from the weather. It keeps your tent cooler in the summer. It's like setting up in the shade everywhere you go. In the winter it helps keep your tent warmer by keeping the wind and rain off of the tent itself. It will add years to the life of your tent.
It keeps your tent drier too, so when you leave an event after a rain storm you may not have to set the entire tent up in your backyard to dry out, just the fly. A fly is much cheaper than a tent. Another great thing about this technique is that it doesn't require any poles! Just stretch it across your tent, attach your ropes to the fly and then move them out to an angle that holds the fly up off of the tent by a few inches and drive your stakes. It will also do away with the shadow puppet shows that occur when you are dressing (or undressing) in your tent at night with the lantern lit.


---
SET UP KITS FOR DINING FLYS
---
8 POLE WITH RIDGE
As seen in the photo above right. This set up kit includes 6, 2 X 2 inch uprights that are 6 foot 2 inches long (These are your outer perimeter poles). As well as 2, 2 X 2 inch upright poles that are 7 foot two inches long with 2 long iron pins. These poles support the ridge. The iron pins go through the ridge and extend out the top. There is a grommet on each end of the fly that slips over this long pin. When used correctly it will hold the ridge pole in place even in high winds. This kit also includes one ridge pole (In two pieces for easy transport) with a tin sleeve and bolts for easy assembly, 10 ropes with tension tighteners and 10 stakes are also included.



8 POLE WITH RIDGE SET UP KIT #T083-R $119.95 BUY NOW!




---
9 POLE WITHOUT RIDGE
9 pole dining fly set up kit, no ridge. With this set up you get 8, 2X2 inch up right poles 6'2" long that go around the outside of your fly. You get one 2X2 inch upright that is 7'2 inches long for the center of your fly. This set up kit also includes 12 stakes and 12 ropes with tension tighteners along with instructions.



9 POLE SET UP FOR FLY #T099 $96.95 BUY NOW!




---
5 POLE SET UP
5 Pole Dining fly set up kit includes 4, 2X2 inch up rights 6'2 inches tall for the side poles and one 2X2 inch up right 7'2 inches long for the center pole. It also includes 8 stakes and 8 ropes with tension tighteners and instructions.
This is the lightest and easiest set up kits out of all the set up kits for flies, However, it is not well suited for windy conditions.



5 POLE DINNING FLY SET UP. #T083 $59.95 BUY NOW!




---
TIP FOR WINDY CONDITIONS
Whenever the wind kicks up unexpectedly and starts to blow your fly around, this tip may help. Just take and move the bottom of the outside poles in toward the center of your fly and re-tighten your ropes. This will lower the outside edge of your fly and force the wind to go over rather than under it. It will also keep some of the blowing rain out.


---
GROUND CLOTHS "TENT FLOORS"
ALL OF OUR GROUND CLOTHS ARE MADE OF TREATED CANVAS FOR LONG LIFE.
CHOOSE THE SIZE GROUND CLOTH YOU WOULD LIKE FROM THE CHOICES BELOW.

10 FT. BY 12 FT. FITS OUR WALL TENT #T059 $99.95 BUY NOW!

8 FT. BY 9 FT. FOR A FRAMES #T060 $89.95 BUY NOW!

8 FT. BY 6 FT. FOR A FRAMES &nbsp #T061 $79.95 BUY NOW!

6 FT. BY 6 FT. FOR A FRAMES &nbsp #T062 $69.95 BUY NOW!


---
Why Free Standing?
Having a fly set up that is not attached to your tent gives you many more options of how you can use your fly. A free standing set up only requires one more 2x2 upright than a set up which attaches the fly ridge pole to the tent.
With a free standing set up you can place your fly anywhere, with the tent or without and you don't have to worry about high winds blowing your fly down and breaking your tents ridge pole.
With a free standing set up you can take your tent down first and leave the fly up until last to provide you with shade or protection from the rain, not so if your fly ridge pole is attached to the tent. Then the fly has to come down first and you are left to brave the elements with no where to stack your equipment (if the weather is bad) while you take down your tent.


---


Click here to see
TENT SET-UPS & ACCESSORIES
on page THIRTY-THREE

Click here to refer back to the catalog INDEX page.



www.blockaderunner.com

Phone: 931-389-6294 Fax: 931-389-0486

---
This site designed and created by Blockade Runner Publishing
Copyright © 2017 - No portions of this website may be redistributed in any form without expressed written permission from
Blockade Runner Inc.