---
SOLDIER'S AID SOCIETY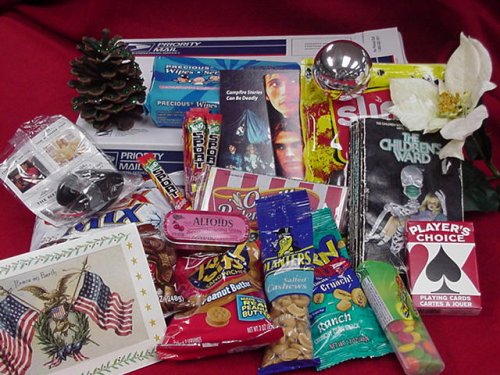 NEW MESSAGE, 12-20-10

WE HAVE REACHED OUR GOAL
B.R.I.'s $1000.00
U.S.O. CHALLENGE HAS BEEN MET!
THANKS TO EVERYONE WHO CONTRIBUTED. Between us we contributed a little over $1000.00 Ya'll are the best, God bless and have a very Merry Christmas.

You all know that BRI supports our troops every chance we get and this Christmas we want to challenge you to do the same by donating to the USO. Our friends and family who are currently serving in sand land tell us that almost all areas now have access to the daily goods that we used to send them in our "We Care" packages so our money would be better spent by giving to the USO. We are taking their advice and doing just that. It's time for you to show your colors as well so for every dollar you donate to the USO we will match it in store credit, up to $1000.00 total. If you donate $25. we'll give you $25 in-store credit. If you donate $100. You've $100 to spend at Blockade Runner Inc. until the $1000.00 total is met.

Here's how to do it. Go to the USO's website and make your donation, when you do you receive a confirmation email with the dollar amount you donated. Forward that email to us. Be sure to include a phone number, we will call you and verify the in-store credit. There is also place to send up to 5 emails to your friends and family showing them what you have done. It's a way to encourage others to follow your great example. When you enter those emails make sure you send one of them to us here at bri@blockaderunner.com. You even get to make your donation in honor of your favorite person, it doesn't even have to be a vet! Anyone that donates past the $1000 mark during the month of December will receive free shipping up to $10.

We will also be listing your name here on this page as a proud sponsor of the USO unless you request otherwise. So lets get busy and make sure that our guys and gals serving overseas have all the comforts of home that we can give them. Merry Christmas and God Bless all of our fighting men and women.

Thank you Josh Hooper of Chattanooga Tn. for your donation.

Thank you Connie Rigney of Fosterville Tn. for your donation.

Thank you Cindy Price for your donation.

Thank you Michael Dec for your donation.

Thank you Marc Averill for your donation.

SPECIAL Thank to Thomas Johns for your great donation.



CLICK HERE TO DONATE TO THE

U.S.O.
---



CLICK HERE TO DONATE TO THE MARINE MOMS.


---

Click here to refer back to catalog INDEX page.

CLICK HERE TO RETURN TO www.blockaderunner.com HOME PAGE

Phone: 931-389-6294 Fax: 931-389-0486

Send e-mail to: bri@blockaderunner.com


---
This site designed and created by Blockade Runner Publishing
Copyright © 2011 - No portions of this website may be redistributed in any form without expressed written permission from
Blockade Runner Inc.