BALL GOWNS, TWO PIECE
---
"APRIL ROSE" Ball Gown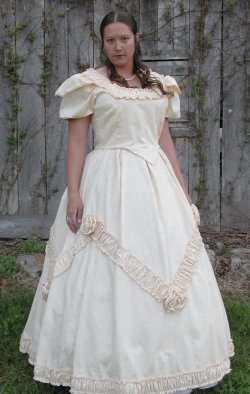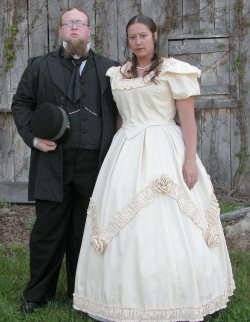 This beautiful Ball Gown is inspired by 2 Godey's fashion plates from 1861. Like any lady of means April brought her fashion magazines to the seamstress and said, "I want my dress to look like this and this and be made of this". Simple really isn't it.

April chose to limit the width of her skirt as the ball she had this dress made for had "limited space" and she knew that another panel can be added to the skirt later for more volume when the occasion calls for it.

As you can see this dress required many hours of hand work. Some things you just can do on even the most modern (1861) machine.

Call for price quotes.


---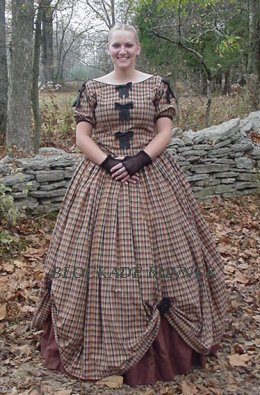 BALL GOWN THE HALEY MODEL,

The Gown that Haley is wearing in the photo right is a very versatile design. This dress is just as appropriate for a party as for a dinner date. It could be just as well worn to a not too formal Ball, or as they are known in the country a "Hop".

Made from a 2 tones of light color brown and tan, this dress is made of 100% cotton. Laid over a solid brown underskirt that is slightly exposed by adding black hand made cotton roses to the front. Giving the dress a festooned effect that is exceptionally becoming.
The pointed, short sleeve bodice is accented by hand made, black cotton bows on the shoulders and on the center of the corsage.
The neck line, sleeve edge and the bottom of the bodice are all "taped" with black cotton material that gives those areas where used a deeper contrast.

For simplicities sake, we will refer to this type dress as a Ball Gown.
The Haley Ball Gown.
Is made exactly as described above. The bodice buttons up the back by means of covered buttons that match the dress. The button holes are machine sewn. The skirt has a waist band 1 inch wide and fastens closed by means of one covered button.

Should you desire hand sewn button holes or a variation of any type, please contact us. As always we are ever so pleased to help you with your own personal design.

Click here for a LARGER VIEW

Click here for a ANOTHER VIEW


HALEY BALL GOWN Prices start at $289.95
CLICK HERE TO CHOOSE YOUR DRESS COLOR

Choose your size below but be sure you have chosen your color first.

Size 6 #D103 $289.95 Buy Now Size 12 #D103 $309.95 Buy Now Size 18 #D103 $329.95 Buy Now

Size 8 #D103 $289.95 Buy Now Size 14 #D103 $309.95 Buy Now Size 20 #D103 $329.95 Buy Now

Size 10 #D103 $289.95 Buy Now Size 16 #D103 $309.95 Buy Now Size 22 #D103 $329.95 Buy Now
NOW CLICK THE [BOW COLOR] BUTTON

NOW CHOOSE YOUR COLOR.


---

Here is an example of our size chart for dresses.

A size 6 would have a 32 inch bust and a 26 inch waist.
A size 8 would have a 34 inch bust and a 27 inch waist.
A size 10 would have a 36 inch bust and a 28 inch waist.
A size 12 would have a 38 inch bust and a 30 inch waist.
A size 14 would have a 40 inch bust and a 32 inch waist.
A size 16 would have a 42 inch bust and a 34 inch waist.
A size 18 would have a 44 inch bust and a 36 inch waist.
A size 20 would have a 46 inch bust and a 38 inch waist.
A size 22 would have a 48 inch bust and a 40 inch waist.
A size 24 would have a 50 inch bust and a 42 inch waist.



---
Click here for MOURNING DRESS on page 7A

Return to BALL GOWNS, ONE PIECE on Page 6

Return to LADIES FASHIONS home page

E-mail us

Call us from 9 A.M till 7 P.M. at 931-389-6294 or use our 24 hour fax line 931-389-6294

This site designed and created by Blockade Runner Publishing
Copyright © 2009 - No portions of this website may be redistributed in any form without expressed written permission from
Blockade Runner Inc.