AN ORIGINAL DRESS
---
The CALICO DRESS, from the Blockade Runner Collection that you are viewing in the photos shown here is dated (circa 1858) by THE TIME TRAVELERS CO. We were fortunate enough to purchase this dress several years ago before the current "run on the market" started and prices for originals went through the roof.

We will list for you some it's more prominant features as well as provide several photos for your veiwing.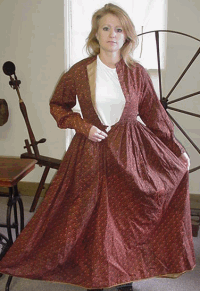 The first photo to your right is an overall veiw of he length of the dress. The circumfrence of the bottom of the dress is 140 inches.
The waist is 24 inches and it would have been for a lady approx. 5 ft. tall.
It opens in the front and fastens closed by means of 10 hooks and eyes.
The dress opens 8 inches past the waist band and there are no hooks and eyes below the waist band.
It is cotton calico and it's primary color is a burnt orange with small circular designs of light yellow and red.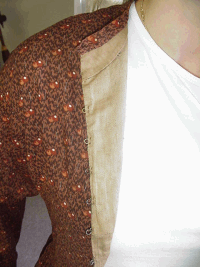 This photo shows the bodice lining that is of a course muslin and the hook and eye closer on the front of the dress.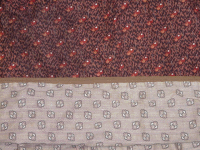 This photo shows that another very light color calico was used for the bottom dress lining that extends 6 inches up the inside of the dress. The bottom edge is taped with a light brown cotton tape.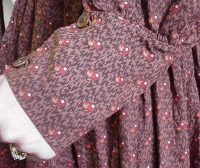 This photo shows the cuff of the sleeves, which is quite long, being 6 inches at it's longest point. Notice the brown composite buttons, most likely comprised of sawdust and shelack.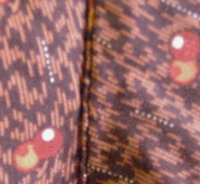 This photo shows the piping which is of the same material as the dress and is used in the arm scythe and on the waist band.










---
Click the back button, top left of your window to return to the page you were veiwing.

Click here for SHIRTS & BODICES on page 2

Return to LADY'S FASHIONS Home page.

E-mail us

Call us 931-389-6294 from 9 A.M. till 7 P.M. or use our 24 Hour Fax Line 931-389-0486

This site designed and created by Blockade Runner Publishing
Copyright © 2003 - No portions of this web site may be redistributed in any form without expressed written permission from Blockade Runner Inc.