Questions / Answers / Speculation
---
WAR DATED SNOODS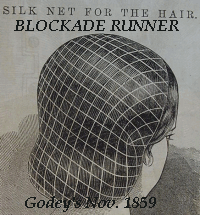 If you would like to see a very detailed photo of a war dated CDV showing a young lady wearing a snood, then take a look at Military Images Magazine, May/June 1995, page 8.
Even though we have 12 CDV's of ladies wearing various styles of snoods or hair nets in our collection, none of them can compare with this one.
It is a posed photo of a New York Militia private, supposedly just before shipping out. Most of the New York Militia units were not wearing the militia uniform later than mid 1862 so the CDV is dated no later than 62.
The young lady is posed with her back to the camera in an "I'll be waiting for you" embrace with the soldier. It's a fantastic look at a seldom-photographed item.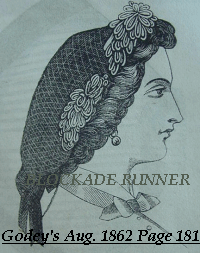 While we're on the subject, I would like to address a question that I have recently been asked. "Why do you so seldom see photos of Snoods / hair nets?" Well in my collection of several hundred photos I have 12 that I can positively say are wearing one style or another of snood and about that many more that I suspect are but the quality of the photo is just not good enough to say for certain. Now that is quite a few but after considering the question for some time I had to ask myself, what is the purpose of a basic snood or hair net?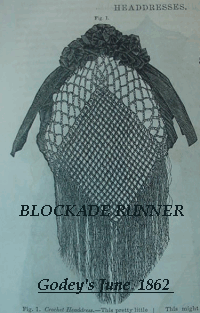 A hair net protects a hair style from losing it's shape as well as keeps your hair in place i.e. out of your face while performing a task that requires some bit of moving about. House keeping for instance. Nothing works as well for this job as does a snood and the sometimes tossed about notion that they had been abandoned because they were out of style, is well ... I find it very unlikely.
So a snood has it's origins as a utilitarian item if you will. Now with this in mind ask yourself - where is the most likely place for a women to be when wearing a snood? Working or performing some task? Traveling to and fro, seeing to chores that would carry her in and out of doors on a windy day. Would she be wearing one during the day to protect a new hair style before an afternoon visit or an evening excursion? Both are a possibility. So it would be more likely for a snood/hair net to worn to the photographers studio and removed before the sitting to expose the lovely hair style she had been protecting rather than to be photographed with the snood in place? Maybe, it's all just speculation and worth exactly what you paid for it-----but worth no less than any others un-substantiated speculation.

As with any utilitarian object, male, female, military or civilian. We never pass up a chance to adorn, twist, turn and change them to the point that they are utterly useless for their original task. Just take a look at the crochet snood above left. This Crochet Snood appeared in the June 1862 Godey's.
Very ornate don't you think?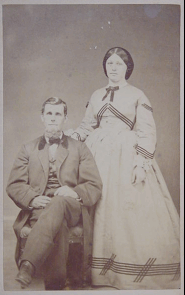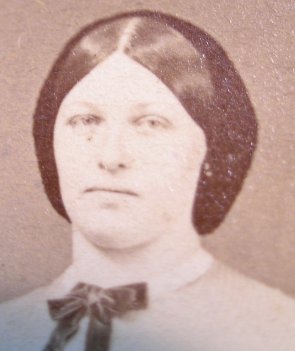 O.K. we couldn't resist showing you just one more. This CDV is of a young couple approx. 22 to 25 years old. The card stock is very thin and the Back mark of T. G. Richardson, Photographer, St. Albans Vt. is extremely small. Both these characteristics are ear marks of an early date.


---
Was Crochet Popular?
That seems to be a fair question. Lets take a look.
First I turned to my "so called" filing system to see what I had listed under crochet and here is what I found.

Crochet Mitten
Peterson's Sept. 62, page 306.

Peterson's Magazine Sept. 62
To crochet a Talma, page 385.

Crochet Instruction in General.
Peterson's Jan. 1857 page 63.

The Civil War Diary of Ellen House.
Eatonton Ga. Jan. 10, 1865. Page 141.
I crocheted a cape for Mrs. Harwell and sent it home this evening.
Feb. 8, 1865
Mrs. Harwell came home from Monticello last night, and I took her, after breakfast a cape I had crocheted for here while she was away.

A Blockaded Family in Southern Alabama
Page 51.
Here again a pleasant rivalry arose, as to who cold form the most unique bordering for capes, shawls, and all such woolen knit or crocheted clothing.. There were squares, diamonds, crosses, bars, and designs of flowers formed in knitting and in crocheting.

A Blockaded Family page 95.
Of course braid and tape could not be bought, nor cold we weave that sufficiently narrow to make a neat appearance on dress goods; but we soon found that long "chains" of crochet thread wold answer nicely for braiding. Balls of it were crocheted of various colors; black, white, red, blue and dark brown were the colors most used. It was braided on in various ways; sometimes singly, at times we would sew three or four chains together of colors to blend making the tape an inch or more wide.

A Blockaded Family in Alabama.
Page 49.
We soon became very apt at knitting and crocheting useful as well as ornamental woolen notions, such as capes, sacques, vandykes, shawls, gloves, socks, stockings, and mens suspenders. Our needles for such knitting were made of seasoned hickory or oakwood a foot long or even longer.

A Blockaded Family in Alabama.
Page 50.
Handsome mittens were knit or crocheted of the same lamb's wool dyed jet black, gray, garnet or whatever color was preferred. A bordering of vines, with green leaves and rosebuds of bright colors, was deftly knitted in on the edge and top of the gloves.

Petterson's Magazine, May 1860
Crochet under sleeves, page 406.

Petterson's Magazine, July 1860
Crochet Sun Hat, page 77.

Petterson's Magazine, Sept. 1860
Watch hook in crochet, page 400.

Enough of that already! How about in Godey's?

The three most successful lady's magazines of the day were, Godey's, Peterson's and Graham's. The magazine business was and is a very competitive business. Several upstarts tried to get a foot hold only to fall flat within a few issues never to be seen again.
Godey's had the highest circulation with Peterson's and Graham's both gaining fast and surpassing Godey just after the war. You had to fill those pages with what the consumer wanted if you wanted to sell them. At random I grabbed a couple of Godey's just to see how many crochet items and projects we could find.

Godey's Lady's Book, Dec 1859
Crochet Coronet Basket, page 545.
Detailed Drawing and directions on making basket.

Godey's Lady's Book, Dec. 1859
Crochet Neck Tie, directions on pg 546 and picture on page 490

Godey's Lady's Book, Dec. 1859
Crochet under sleeve with cuff, directions on page 543 and picture on page 489.

Godey's Lady's Book, Nov. 1859
Crochet Tidy, directions on page 455 and picture on page 394.

Godey's Lady's Book, Oct. 1859
Purse, in Crochet.
Detailed drawing and directions on page 356.

Godey's Lady's Book, Aug 1859
Lounging Cap, crocheted over cord, Page 170.

Godey's Lady's Book, May 1859
Lappets in Irish Point Crochet, page 459.

Godey's Lady's Book, March, 1862
Purse in colored silk crochet, page 286.

Godey's Lady's Book, June, 1862
Crochet Headdress, page 594.

Godey's Lady Book, June, 1862
Counterpane in Crochet, page 596.

Godey's Lady's Book, June 1862
New Crochet Stitches, page 596-597.

Godey's Lady's Book, June, 1862
Sofa Cushion in Crochet, page 598.

Godey's Lady's Bag, July, 1862
Crochet Bag, page 88.

Godey's Lady's Book, September, 1862
Crochet Zouave Jacket, page 327.

Godey's Lady's Book, September, 1862
New Stitches in Crochet, page 387-388.

Godey's Lady's Book, October, 1863
Crochet Purse page 367.

Godey's Lady's Book, December, 1863
Crochet Pelerine, page 514.

What do you think? I really didn't spend that long of a time putting this list together. I think I could actually triple it's length in less than a day. That's a whole lot of something to be un-popular!


---
Click here for ACCESSORIES on page 18

Return to GLOVES & MITTS on Page 16

Return to LADIES FASHIONS home page

E-mail us

Call us from 9 A.M till 7 P.M. at 931-389-6294 or use our 24 hour fax line 931-389-6294

This site designed and created by Blockade Runner Publishing
Copyright © 2003 - No portions of this website may be redistributed in any form without expressed written permission from Blockade Runner Inc.