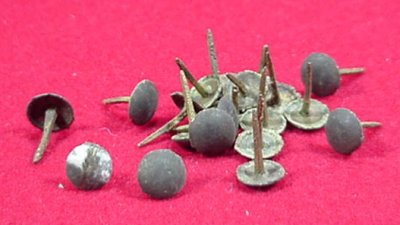 20 BRASS TACKS
It's time we got down to the brass tacks - no really - brass tacks. I have here 20 brass tacks that I salvaged from a trunk dating to circa 1845. The trunk had almost rotted way leaving nothing of use but, that's right - brass tacks. If you consider yourself crafty oh the things you can do with these. The most obvious is decorating a trunk or any other small wooden chest. Why the possibilities are unlimited. In historical homes I've seen them used to put initials and dates on blanket chest. In the east, if your subscribe to an earlier era than the CW just think about decorating a trade gun with these! How many examples have we seen of that? Hundreds I'm sure. In the west and southwest that would be appropriate right up until the 1880's. I'll let you decide what to do with them I'm just happy to be able to offer some original hardware from the era.
They are just a little smaller than the photo shows them to be. The head is 3/8 of an inch across and the shaft is a 1/2 inch. They will clean right up and be just as shiny as new. I would suggest pre-drilling your holes as the shaft is brass and easily bends.



20 BRASS TACKS
$7.95 BUY NOW!



---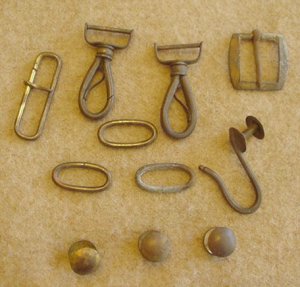 COMPLETE INDIAN WAR SABER BELT HARDWARE
Since I've listed this hardware set several of you have sent me links or photos showing this hardware used on belts with 1851 buckles. I appreciate the info. That may mean this hardware was in use a little earlier than I thought but I still don't think it is of the Civil War era. Remember the 1851 was in use until it was replace by the 1872 model buckle.
Sorry to say that I don't remember where I got this. I bet you can't easily find another though. It is a complete set of hardware for an Indian war period saber belt. Snaps, Sam Brown and all. Pretty Cool don't you think. With a little talent and leather you can be sporting one fine saber belt.



COMPLETE INDIAN WAR SABER BELT
HARDWARE SET $69.95 BUY NOW!



---
Click here to refer back to our ORIGINAL RELIC page.

Click here to refer back to our catalog INDEX page.



www.blockaderunner.com

Phone: 931-389-6294 Fax: 931-389-0486

---
This site designed and created by Blockade Runner Inc. Publishing
Copyright © 2017 - No portions of this website may be redistributed in any form without expressed written permission from
Blockade Runner Inc.