8 INCH STAMPED STEEL SKILLET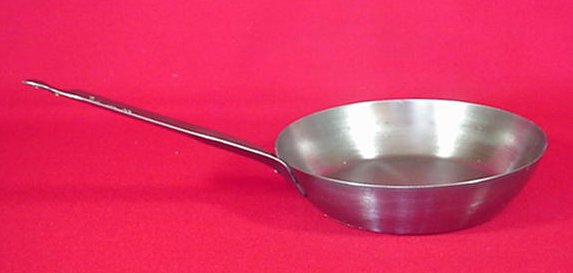 I'm really happy to once again (after a long absence) be able to offer a great stamped steel skillet. This one is 8 inches wide with the total length, handle and all, 15 inches. It's heavy enough for years and years of good service yet light enough to carry on campaign. The quality of this piece is excellent.



8 INCH STAMPED STEEL SKILLET
ITEM # 2507 $9.95
BUY NOW!




---
1858 US BLANKET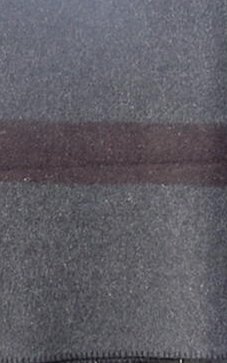 We were fortunate to find a small cache of 1858 US Blankets. These are new "old stock", I say that because I have never seen these blankets reproduced in the proper weight until now. Each weights just a bit over 5 pounds. They have been stored for quite some time but there are no moth holes. The moth ball smell is not too strong. A day or two on the clothes line will take care of that as well as the creases from being folded for so long. Grey with black stripe, 60 x 80 inches with stitched edges. I don't think you will be able to match this quality at this price anywhere. These do not have the US stitched in the center.



1858 US BLANKET
ITEM # 340 $59.95
BUY NOW!




---
TARRED HAVERSACK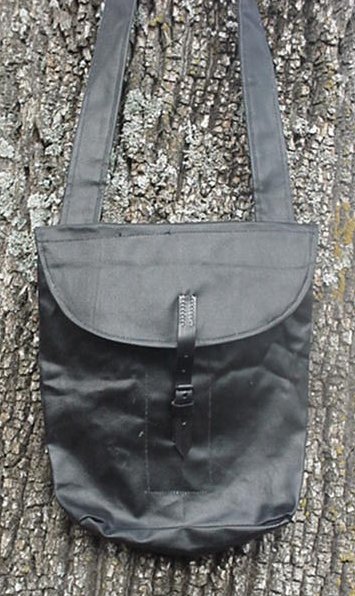 This new tarred haversack is of the generic sort. No particular make or model. It is very well made and the 100% cotton material is first class, just the right weight to last for years and years and the tarred coating can't be beat. You don't have to worry about this one pealing or flaking like some compareably priced bags. The shoulder strap is cut for a modern person so the bag does not ride up under your arm. No liner but the buttons are sewn in if you want to add one. I think you'll be very pleased with this purchase.



TARRED HAVERSACK
ITEM # 283-A $19.95
BUY NOW!




---
FORREST'S MURFREESBORO RAID DVD

Ed Bearss, National Park Service Historian Emeritus tells the story of Forrest's Murfreesboro Raid. Speaking at the Rutherford Co. Courthouse in Murfreesboro. The same that Forrest's men charged with axes in hand to batter down the door after the Union Troops had barricaded themselves inside. A lively tale to say the least.



FORREST'S MURFREESBORO RAID DVD
ITEM # 2507 $11.95
BUY NOW!




---
CIVIL WAR GENERALS OF TENN.

I've owned this book for 2 days and I've already turned to it for information 3 times. Now that's a good book! Short but interesting bio.'s on every Tennessee General both US and CS. Hardback 254 pages not including the notes which are extensive. I would recommend this book to to any student of the war. Well worth the price of admission.



CIVIL WAR GENERALS OF TENN.
ITEM # 2506 $27.95
BUY NOW!




---
NEW STAINLESS STEEL STRAIGHT RAZOR

Here's a super new stainless steel straight razor. Not CW era, not inteneded to be used at living histories. Just a really good straight razor at a great price. I normally would not offer something like this but I've talked to so many guys over the last couple of years who have gone back to straight razors. The reviews on the one offered here have been so good I just could not resist. I really like the weight of this one. It's similar to one of those Wade & Butcher's with the thick blade.



NEW STAINLESS STEEL STRAIGHT RAZOR
ITEM # 2307-A $11.95
BUY NOW!




---
HAT STAR CAST BRASS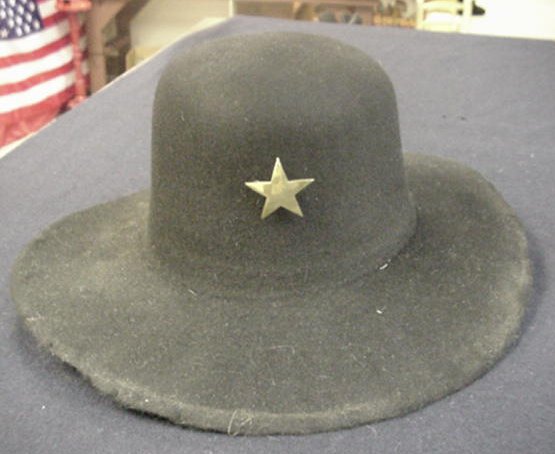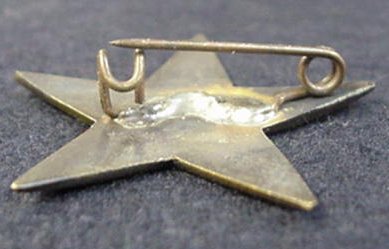 Here's a great copy of a cast brass star hat ornament. This item would have been sold by sutlers to the troops in the field. Copied from an original. It measures an one and 5/8 inch.



HAT STAR CAST BRASS
ITEM # 230-T $9.95
BUY NOW!




---
HAVERSACK REPLACEMENT LINER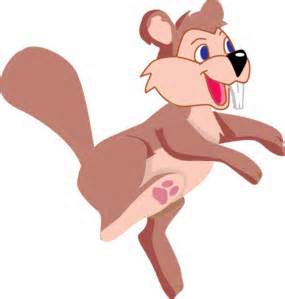 Here's a replacement liner "bag" for your old haversack. Let's face it, sometimes those things just get to nasty to wash. This will fit any old standard haversack. It fastens in by 3 button holes. The buttons should already be sewn into your haversack. 11 by 15 inches.
Why the photo of the beaver? Because it's really hard to photograph a white cotton bag, which would you rather see? Some old bag or a happy beaver?
P.S. Don't google "happy beaver" if your under 18.



HAVERSACK REPLACEMENT LINER
ITEM # 283L $4.95
BUY NOW!




---
FOLDING CAMP TABLE

The photo left shows what it looks like when in use, the photo right shows just how small it will fold up to transport. The table top is 28 inches long and 23 inches wide. It stands 32 inches from the ground to the table top. It's made from Tennessee Poplar so it's super light, strong and resist rot. It's even termite resistant. This is by far my favorite piece of camp furniture. The only down side is we can't ship it - you are going to have to stop by and pick these up but they are worth it.



FOLDING CAMP TABLE
ITEM # 2505 $69.95
BUY NOW!




---
THE UNFINISHED FIGHT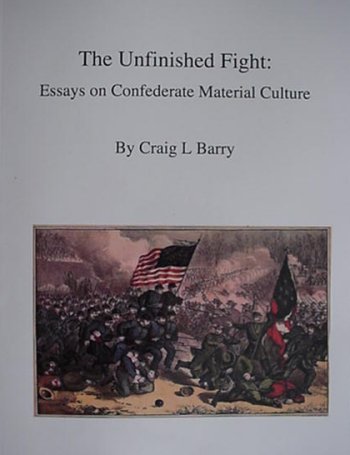 "The Unfinished Fight, Essays on Confederate Material Culture" by Craig Berry is the latest in a series of books by this writer. All of which have been very informative and well written. Once again Mr. Berry has supplied the re-enactor and historian with a well informed and well written veiw of the Southerner, his cause and just what he had to work with. A very good read.



THE UNFINISHED FIGHT
ITEM # 2502 $24.95
BUY NOW!

THE UNFINISHED FIGHT II
ITEM # 2502-A $24.95
BUY NOW!




---
HUGE 4 DRAW TELESCOPE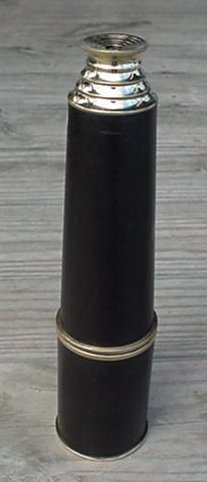 This is the most powerful telescope we have ever offered! This is not a "prop." If you want to see what the enemy is up to then this is the telescope for you. It measures 34 inches long and that's before you extend the sun shade. The tube at the large end measures 2.5 inches and yet it collapes down to just 11 inches. That will fit in any haversack. I can't tell you the exact magnification but it is noticably better than the 4x32 scope I'm using for comparison. Here at the store we've been using one for a spotting scope on our small caliber shooting range. Not only do they work great but they look super. The leather covers are very well done. Just the thing for officers or any artilleryman but just imagine how great this will work for the Signal Corp!



HUGE 4 DRAW TELESCOPE
ITEM # 2503 $79.95
BUY NOW!




---
TAPESTRY CAMP STOOL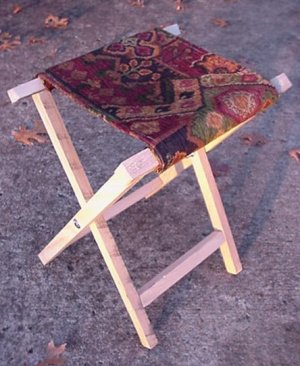 Here's the same great camp stool that we have sold for years but with a colorful tapestry seat! Very similar to carpet bag material in weight and patterns.
Tapestry colors and patterns may vary.



ITEM # 867-T 29.95

BUY NOW!




---
BALLISTOL WIPES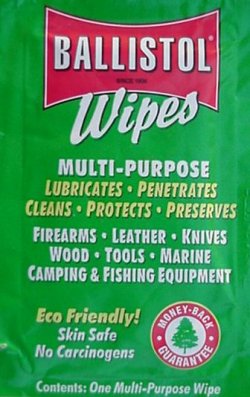 Ballistol multi-purpose wipes, lubricates, penetrates, cleans, protects, preserves firearms, leather, knives, wood, tools, marine camping and fishing equipment. That's what it says on the package but here's what I say about Ballistol. Everyone I know who deals in firearms for a living uses this product. You can wipe your rifle down and put it away for 6 months and not even have to think about it. It is simply the best. This new "single serving" wipe is great. Just put one in your haversack and it will last the whole event. Everyone will be asking, "Can I use that when your through?" I keep them in my glove box, at the house, shop and barn. They really are great for everything you want to protect from the elements. If you want to keep you weapons looking like new this is the only product you'll ever need.



ITEM # 000 .95

BUY NOW!




---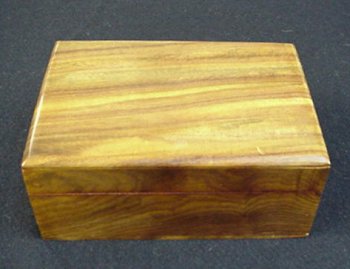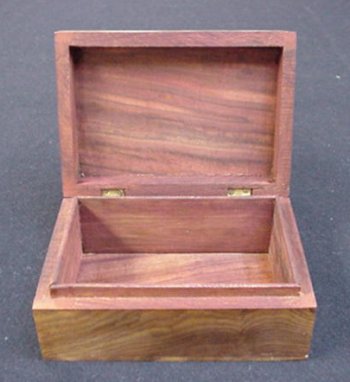 SMALL WOODEN CHEST
This is the same box as seen above used in our Deluxe Shaving Kit so if you care to you can make your own by adding just the accessories you want or use it for something altogether different. It has 1001 uses and it will look great doing them all. It measures 7 inches long and 5 inches wide. It is 3 inches deep. They are very well made and as you can see from the photos they are very attractive.



SMALL WOODEN CHEST
#2494 $14.95
BUY NOW!




---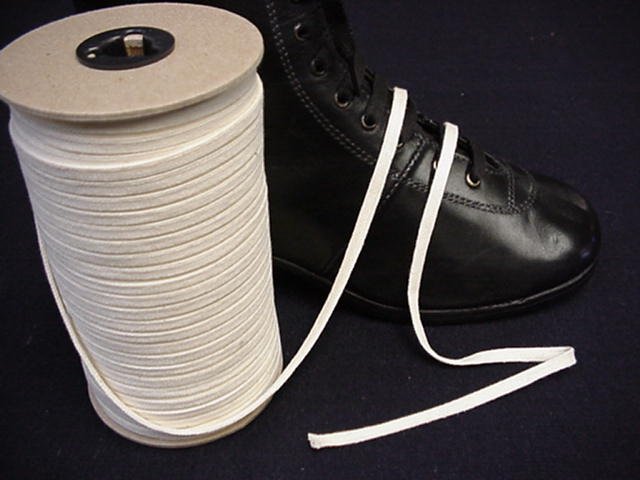 WHITE COTTON LACING
Lacing that looks right is very hard to find so you can imagine how glad we were to get 1000 yards of this white cotton. You can cut it to any length and simply dip the ends in candle or bees wax to prevent fraying. Great for corsets, shoe and boot laces and 100 other sewing projects.



WHITE COTTON LACING
#2206-L $1.95 per yard
BUY NOW!




---
CS LOCAL 13 STAR BUTTON
As with many CS items local manufacturers took over production once the Blockade dried up the foreign supply. Such is the case here, during the first year of the war fine quality English made buttons were available but by mid-war they were seldom found. A crude version with little or no gilt and no back mark would often have to substitute. We think this to be a very good copy.



CS LOCAL 13 STAR BUTTON COAT SIZE
#0000 $1.95
BUY NOW!

CS LOCAL 13 STAR BUTTON CUFF SIZE
#0000 $1.95
BUY NOW!




---
COMPASS WITH HINGED LID
Here's a very well made brass compass with hinged lid, to open it simply push the button on top - similar to a pocket watch. To close just shut the lid and push the button to latch. Great for keeping glass cover of your compass face free from scratches. It's about the size of a standard pocket watch too so it won't take up much room in your kit.



COMPASS WITH HINGED LID
#0000 $12.95
BUY NOW!




---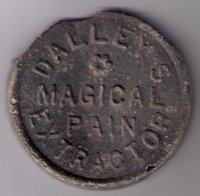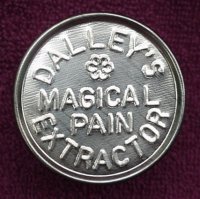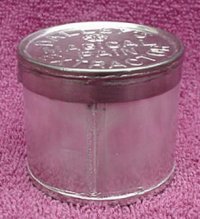 DALLEY'S MAGICAL PAIN EXTRACTOR
I've been waiting quite some time to offer this tin and I am very happy to finally have them finished. The photo to the left is the original tin top that was dug from a Confederate redoubt on Horse Mnt. which was part of CS Gen. Bragg's "Duck River Line" defenses which he abandoned in June of 1863.

Our reproduction measures 2 inches across and 2 inches tall. The lid fits tightly and simply pulls off just as the old snuff cans used to. You can look at the photos above and judge for yourself whether we did a good job of reproducing them or not.



HERE'S A DALLEY'S ADVERTISING POSTER DATED 1859.

Notice at the bottom of the poster the distributor list two location - New York & New Orleans - so I'm guessing this product would just as likely to be found in a US camp as a CS.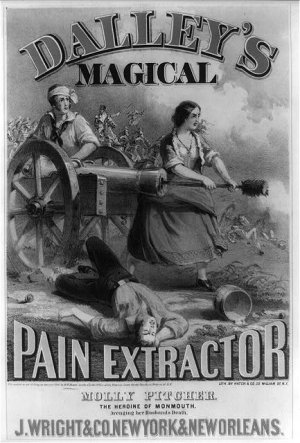 HERE'S A NEW'S PAPER AD FROM THAT SAME YEAR.

The Scranton Republican January 13, 1859
Dalley's Magical Pain Extractor which promises to, "...cure the following among a great catalogue of diseases: burns, scalds, cuts, chafes, sore nipples, corns, bites, bunions, strains, poison, chilblains, biles, ulcers, fever sores, felons, ear ache, piles, sore eyes, gout, swellings, rheumatism, scald head, salt rheum, baldness, erysipelas, ringworm, barber's itch, small pox, measles, rash, &c."

Well that cures just about everything I've got!
DALLEY'S MAGICAL PAIN EXTRACTOR
#2487 $11.95
BUY NOW!
---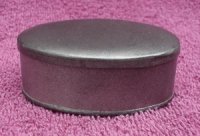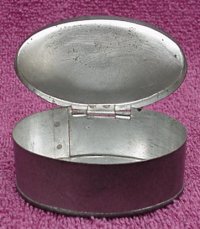 "SNUFF BOX" STYLE TIN
Well it's no secret that I really like tins. Every time I find a great little original that will fit neatly in a haversack or a sewing basket I just have to have it. Some of them just have to be reproduced as this one did. This little oval "snuff box" style has a hinged lid just as the original. You won't have to worry about the two becoming separated or lost. You already know my speech about just how useful these things are so I'll spare you this time. One thing that is different about this tin is we have applied a very light coat of an opaque colored lacquer to the outside to help prevent rust and give it an aged appearance. They measure 2.5 inches long, 1.5 inches wide and 1 inch tall.



SNUFF BOX TIN
#2488 $9.95
BUY NOW!




---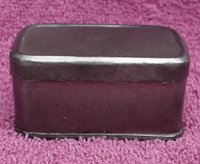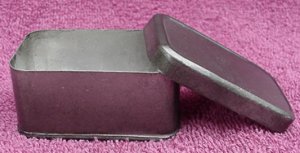 RECTANGULAR PHARMACY TIN
Ok, this one is pretty cool too. I've seen a few of these with hand written pharmacy labels on them. I'm sure they had many other used but that's the one I'm going with. One thing that is different about this tin is we have applied a very light coat of an opaque colored lacquer to the outside to help prevent rust and give it an aged appearance. They measure 2.5 inches long, 1.5 inches wide and 1 inch tall.



RECTANGULAR PHARMACY TIN
#2489 $7.95
BUY NOW!




---
TRADE BLANKETS
Trade blankets? Yep, from the Trail of Tears to Custer's Last Stand these babies are right on the money. These blankets will work from 1820 to 1890 with no problem. During the Civil War they would have just been an inexpensive civilian blanket.

But these aint cheap, they are top notch European made wool blankets and there is a very limited supply. THE QUALITY IS OUTSTANDING! There is a lot of variation to the patterns so it's best if you call your order in or use the comments box on the order page to let us know which you prefer. I suggest you give us a second choice as well.
They are all 60 by 80 inches or there abouts. Some are 100% wool others are blends but they are all great.



TRADE BLANKETS
#2486 $49.95
BUY NOW!




---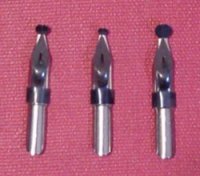 CALLIGRAPY NIBS
Somehow I became the proud owner of a box of assorted Calligraphy nibs. The photo above shows the largest sizes but there is quite an assortment. If you would like more than one I can make you a real deal. $2.00 each if you buy multiples. Of course we will adjust your total when we charge out your order to reflect the discount. Feel free to send me a photo or a good description if your looking for something special. I'll be glad to see if we have it.



CALLIGRAPHY NIBS
$2.95 BUY NOW!




---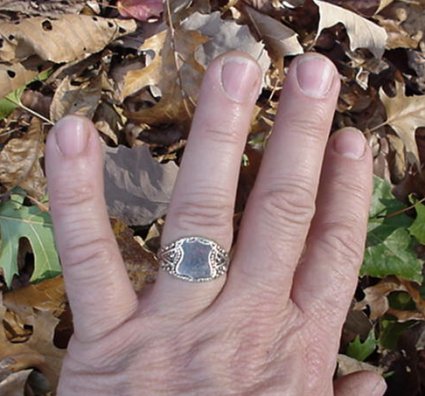 MEN'S SILVER RING
I normally don't sell men's rings but when I saw this one I had to have one for myself, thought you might like one too. These babies are "dead on", you can bet that in the next few years they will start to turn up at relic shows being sold for originals. They are solid silver, not plated or washed copper. They come in all the normal men's sizes and can be sized by your local jeweler. The shield design gives ample room for any type of engraving you might like. I'm having a square and compass put on mine but you could have your regt. # and company letter or even your initials, how about an infantry horn or crossed sabers? This is a great ring at a great price. It's a perfect gift and just in time for Santa!



MEN'S SILVER RING SIZE 7
#2456 $39.95
BUY NOW!

MEN'S SILVER RING SIZE 8
#2456 $39.95
BUY NOW!

MEN'S SILVER RING SIZE 9
#2456 $39.95
BUY NOW!

MEN'S SILVER RING SIZE 10
#2456 $39.95
BUY NOW!

MEN'S SILVER RING SIZE 11
#2456 $39.95
BUY NOW!

MEN'S SILVER RING SIZE 12
#2456 $39.95
BUY NOW!






---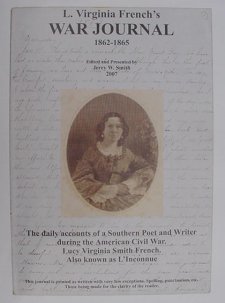 L. VIRGINIA FRENCH'S WAR JOURNAL
It's finally here and boy I could not be happier! It is so good to have this amazing journal available for the public. For those of you who have not read the postings of the journal that we had listed on our website, I'll give you a little idea of what it holds.

Anyone who is familiar with the History of Tennessee, and, more especially that of Middle Tennessee, knows the name of McMinnville native, L. Virginia French. A lady who's life and fortune seemed to change as often as the direction of the winds.

If you want a clear in depth look at life during the war, here it is. It is unsurpassed in clarity. Mary Chestnut can not hold a candle to read this book by. Her career as a professional writer and editor make Virginia the most qualified person for this job. Thank goodness it was preserved long enough to finally be published.
I have only briefly touched on the life and times of L. Virginia French here, there is so much more to tell. I'll say no more other than Virginia records her conversations with both common soldiers and Generals, both north and south, some of which reveal details of battles and how they affected the men who fought them, that would otherwise have been lost to history. Even though you may have heard the names of the participants, Generals Morgan, Forrest, Rosecrans, (and many names you have never heard) Virginia French's Journal brings them back to life as no other has before.



L. VIRGINIA FRENCH'S WAR JOURNAL
#2320 $19.95 BUY NOW!



---

PREFERRED CUSTOMER E-MAIL LIST


Send us your name and e-mail address and we will put you on our preferred customer list. You'll be the first to receive e-mail notices about special SALE items and the first to know when the HOT NEW ITEMS are posted.


---
Where do you want to go from here?

Blockade Runner Home Page
Blockade Runner Catalog Table of Contents
---

Store Hours: 10am until 5pm Monday through Saturday
Phone (voice): 931-389-6294
24 Hr Fax: 931-389-0486


Questions about our products? Send them to bri@blockaderunner.com.

Please direct comments and suggestions about our website to bri@blockaderunner.com.


---
This site designed and created by Blockade Runner Publishing
Copyright © 2014 - No portions of this website may be redistributed in any form without expressed written permission from
Blockade Runner Inc.