YOUNG LADIES STRAW HATS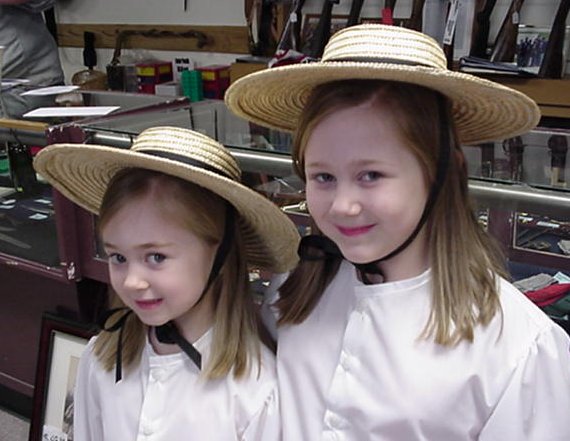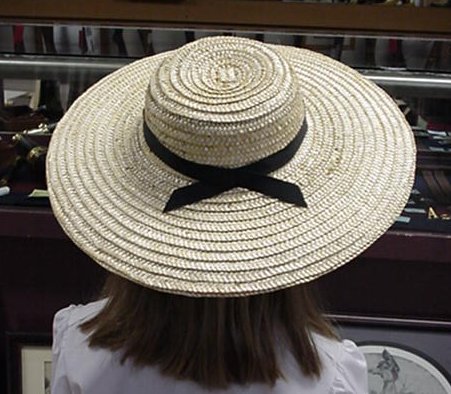 These straw sun hats are made especially for young ladies and are one size fits all. They sit on the back of the head and are held in place by black ribbon. They are very fashionable and exactly the same style as for ladies just a little smaller. Hand woven right here in Tennessee and sewn on a treadle sewing machine.



GIRLS STRAW HAT
ITEM # 2381-A $9.95
BUY NOW!




---
FOLDING CAMP STOOL

This is a great companion piece for our folding table. This stool stands 20 inches tall, the seat is 13 x 14 inches so it's very comfortable. It's made of the same high quality kiln dried Tennessee poplar as our tables and folds into a very small package for easy transport. It's so well made it comfortably hold even our fluffiest generals! A great addition to any officer's baggage and a must for civilian camps.



FOLDING CAMP STOOL
ITEM # 2505-A $29.95
BUY NOW!




---
FOLDING CAMP TABLE

The photo left shows what it looks like when in use, the photo right shows just how small it will fold up to transport. The table top is 28 inches long and 23 inches wide. It stands 32 inches from the ground to the table top. It's made from Tennessee Poplar so it's super light, strong and resist rot. It's even termite resistant. This is by far my favorite piece of camp furniture. Well made and rugged for years of hard use in the field. Now available for shipping!
At the time of this writting (late 2014)this table will ship to Dallas or Atlanta for $30.00 New York for $38.00, Grand Rapids for $34.00, L.A. for $54.00 and Seattle for $64.00.



FOLDING CAMP TABLE
ITEM # 2505 $74.95
BUY NOW!




---
8 INCH STAMPED STEEL SKILLET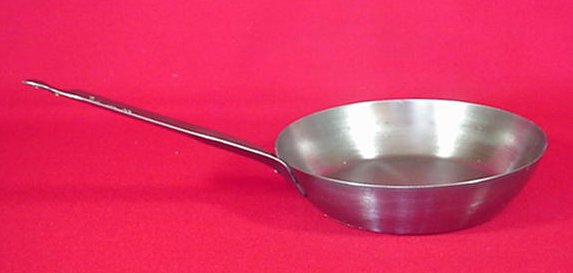 I'm really happy to once again (after a long absence) be able to offer a great stamped steel skillet. This one is 8 inches wide with the total length, handle and all, 15 inches. It's heavy enough for years and years of good service yet light enough to carry on campaign. The quality of this piece is excellent.



8 INCH STAMPED STEEL SKILLET
ITEM # 2507 $9.95
BUY NOW!




---
FORREST'S MURFREESBORO RAID DVD

Ed Bearss, National Park Service Historian Emeritus tells the story of Forrest's Murfreesboro Raid. Speaking at the Rutherford Co. Courthouse in Murfreesboro. The same that Forrest's men charged with axes in hand to batter down the door after the Union Troops had barricaded themselves inside. A lively tale to say the least.



FORREST'S MURFREESBORO RAID DVD
ITEM # 2507 $11.95
BUY NOW!




---
BALLISTOL WIPES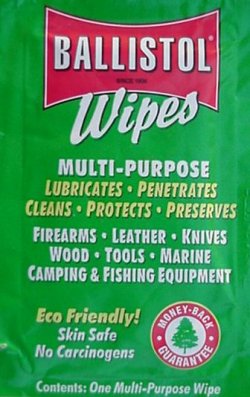 Ballistol multi-purpose wipes, lubricates, penetrates, cleans, protects, preserves firearms, leather, knives, wood, tools, marine camping and fishing equipment. That's what it says on the package but here's what I say about Ballistol. Everyone I know who deals in firearms for a living uses this product. You can wipe your rifle down and put it away for 6 months and not even have to think about it. It is simply the best. This new "single serving" wipe is great. Just put one in your haversack and it will last the whole event. Everyone will be asking, "Can I use that when your through?" I keep them in my glove box, at the house, shop and barn. They really are great for everything you want to protect from the elements. If you want to keep you weapons looking like new this is the only product you'll ever need.



ITEM # 000 .95

BUY NOW!




---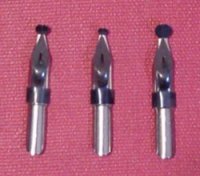 CALLIGRAPY NIBS
Somehow I became the proud owner of a box of assorted Calligraphy nibs. The photo above shows the largest sizes but there is quite an assortment. If you would like more than one I can make you a real deal. $2.00 each if you buy multiples. Of course we will adjust your total when we charge out your order to reflect the discount. Feel free to send me a photo or a good description if your looking for something special. I'll be glad to see if we have it.



CALLIGRAPHY NIBS
$2.95 BUY NOW!




---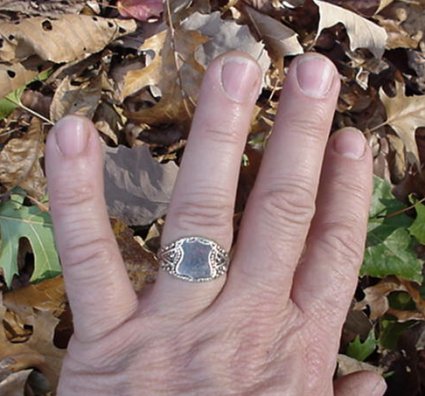 MEN'S SILVER RING
I normally don't sell men's rings but when I saw this one I had to have one for myself, thought you might like one too. These babies are "dead on", you can bet that in the next few years they will start to turn up at relic shows being sold for originals. They are solid silver, not plated or washed copper. They come in all the normal men's sizes and can be sized by your local jeweler. The shield design gives ample room for any type of engraving you might like. I'm having a square and compass put on mine but you could have your regt. # and company letter or even your initials, how about an infantry horn or crossed sabers? This is a great ring at a great price. It's a perfect gift and just in time for Santa!



MEN'S SILVER RING SIZE 7
#2456 $39.95
BUY NOW!

MEN'S SILVER RING SIZE 8
#2456 $39.95
BUY NOW!

MEN'S SILVER RING SIZE 9
#2456 $39.95
BUY NOW!

MEN'S SILVER RING SIZE 10
#2456 $39.95
BUY NOW!

MEN'S SILVER RING SIZE 11
#2456 $39.95
BUY NOW!

MEN'S SILVER RING SIZE 12
#2456 $39.95
BUY NOW!






---
---

PREFERRED CUSTOMER E-MAIL LIST


Send us your name and e-mail address and we will put you on our preferred customer list. You'll be the first to receive e-mail notices about special SALE items and the first to know when the HOT NEW ITEMS are posted.


---
Where do you want to go from here?

Blockade Runner Home Page
Blockade Runner Catalog Table of Contents
---

Store Hours: 10am until 5pm Monday through Saturday
Phone (voice): 931-389-6294
24 Hr Fax: 931-389-0486


Questions about our products? Send them to bri@blockaderunner.com.

Please direct comments and suggestions about our website to bri@blockaderunner.com.


---
This site designed and created by Blockade Runner Publishing
Copyright © 2014 - No portions of this website may be redistributed in any form without expressed written permission from
Blockade Runner Inc.