PRE-WAR CIVILIAN GUM BLANKET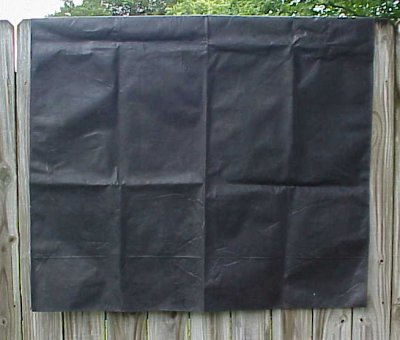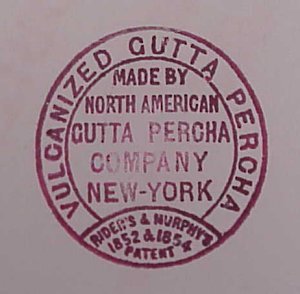 Civillian gum blankets were commercially available pre-war both north and south. That is why our gum blanket is stamped with a pre-war patent of 1854, it measures 46 inches by 72 inches.
Besides it's normal mode of employment this thing has 101 other uses, military and civillian. What about using it as a waterproof tarp to cover - well just about anything. You don't have to leave it as is, sew several together or cut it up and make what ever you want. It is afterall just rubberized cloth and sews easily on a home machine. Just paint your seams for a water tight seal. Make a rain slicker or hat. How about a cannon / limber cover? There are some great books out on pre-war rubber products if you need more ideas.
If you think a soldier would not have one of these you should read Virginia French's War Journal for an account of Union soldiers stealing them from civiilians.



CIVILLIAN GROUND CLOTH
ITEM # 2530 $34.95
BUY NOW!




---
NEW GREY WOOL BLANKET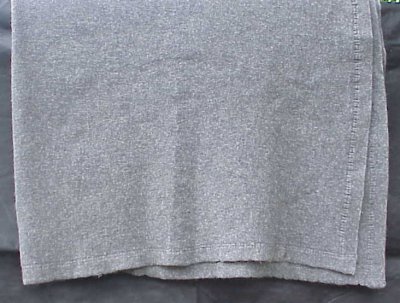 Over the past few years the price of just about everything has gone up and up. When ever I can find anything reenactors can use and save a few bucks on I "jump on it". We recently found a small amount of high quality 80 / 20 grey wool blankets that are awesome. I bought them all, I just wish there had been more. Buy now because when they are gone I doubt you will ever find another for this price, only $39.95! They are the same color grey as you normally see in blankets, they are brand new, they measure 80 x 67 inches and weigh 4 lbs. That is a lot of blanket for the price so don't miss out.



NEW GREY WOOL BLANKET
ITEM # 2531 $39.95
BUY NOW!




---
FIVE POUND 90% WOOL BLANKET
We were lucky enough to land a few more of these brand new Italian style 90% wool blankets. We probably will not have them long as the supply is limited and very erratic. This is a true FIVE POUND blanket as recommended by the War Dept. in 1861. It is sage in color with a tan colored strip. They measure 80 inches long by 60 inches wide. If you would like to carry only one blanket and stay warm regardless of the temp. then this is the blanket to have.



SAGE W TAN STRIPE BLANKET

Item # 2319 $54.95

TEMP. OUT OF STOCK


---
HEAVY 100% WOOL BLANKET
This is the best blanket that we have had in a long time, in my opinion it may be the best we have ever had. This heavy wool blanket has a cream color background with one inch indigo blue stripes. The background may have a light blue-ish or sometimes green-ish tint about it. They are not all exactly the same, that is one of the things I like best about this blanket. It measures 57 inches wide by 74 inches long, that is a little smaller than most that we offer (normally 60 x 80) but it still weights over four pounds! Two of these would keep you warm even during the coldest campaign and the smaller sizes actually fits my knapsack better too. There is a limited number of these blankets and when they are gone they are gone. Some of you may recall that when Fort Morgan Al. was captured the entire Confederate garrison was outfitted with white wool blankets or that quote from the book, "Diary of a Georgia Girl" where she describes the Union soldier wrapped in a white wool blanket sitting on a fence. That's just a couple of the white wool blankets that I can recall.



CREAM w BLUE STRIPES HEAVY WOOL BLANKET
# 2441 $49.95 TEMP. OUT OF STOCK!



---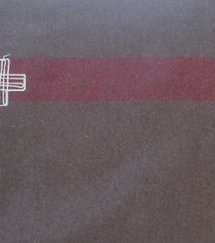 CHESTNUT WITH RED STRIPE BLANKET
Everyone loves this blanket. Every time we manage to get a shipment in we sell out of them very quickly. This is the same heavy European made wool blanket we have been selling for years with one exception. As you can se in the photo there is a stitched cross or heavy white thread sewn into the blanket. The good news is that it was done by a chain stitch machine. This means that when you find the right end of the thread to pull it will unravel in one easy pull and leaves no mark of any kind on the blanket when removed. The problem is that it's hard as hell to find the right thread! But we know you can make short work of it. When this batch is gone I may not be able to get any more.



CHESTNUT WITH RED STRIPE BLANKET
# 2413 $39.95 BUY NOW!



---
BLANKETS
1858 U.S. REGULATION
1858 U.S. Regulation grey with black stripe. There were not enough of these blankets at the start of the war to issue to all of the Union Volunteers. The Union had to buy blankets from many different sources and were not able to choose the color. They had to take what was available. This gave rise to the term "Emergency blanket." Early in the war new recruits were even advised to bring a good heavy blanket with them to camp.



PONCHO, GOODYEAR PATENT WITH CORRECT GROMMETS
MEASURES 72 X 48 ITEM # 347 $49.95 BUY NOW

GUM BLANKET, GOODYEAR PATENT, CORRECT GROMMETS
MEASURES 72 X 48 ITEM # 348 $49.95 BUY NOW





---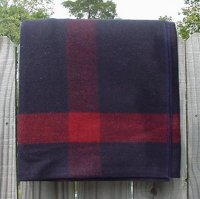 CAVALRY BLANKET
CAVALRY BLANKETS, BLUE WITH ORANGE STRIPE. 60 INCHES WIDE X 80 INCHES LONG. THIS BLANKET WAS USED AS A SADDLE BLANKET BY DAY AND TROOPERS BLANKET BY NIGHT.



CAVALRY BLANKET AS SEEN IN THE PHOTO LEFT
ITEM # 341 $89.95
BUY NOW!

ECONOMY CAVALRY BLANKET
This is a good quality blanket but just a tiny bit lighter weight
ITEM # 341-A $59.95
BUY NOW!



---

Here is an excerpt from General Order No. 121. War Dept ADJ. Gen's Office, Washington, Aug 29, 1862 order concerning supplies to the drafted militia.
As the sudden call for volunteers and militia has exhausted the supply of blankets fit for military purposes in the market and it will take some time to procure by manufacture or importation a sufficient supply. All citizens who may volunteer or be drafted are advised to take with them to the rendezvous, if possible a good stout woolen blanket.
"No soldier who furnishes his own blanket is required to draw one."
BY ORDER OF THE SECRETARY OF WAR. E.D. TOWNSEND, ASSIST. ADJ. GENERAL.


---
1861 Emergency blanket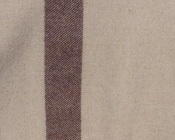 Our 1861 Emergency blanket is made in the USA from 80/20 wool dyed tan with a brown stripe. This is one of the many blankets that were issued by the union government to help cover the blanket shortage of 1861. They may have been issued by the union but you can see them in plenty of Confederate camp photos.



# 342 $89.95 BUY NOW!




---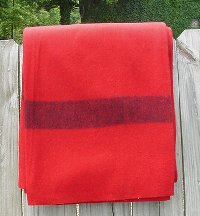 ARTILLERY BLANKET
This blanket is often refered to as the "Artillery Blanket". You'll find them around most of the artillery camps today and even used as the saddle blanket for some of the horse drawn artillery units.
The blanket is red with blue stripes, it measures 80 by 60 inches, some are a little larger than others but never smaller than the 60 X 80.



ARTILLERY BLANKET

ITEM # 2299 $49.95 BUY NOW!




---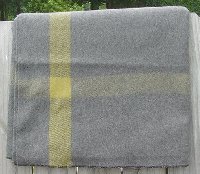 GREY WOOL BLANKET W YELLOW STRIPE
Some of our modern Confederate mounted cavalry are using this particular model as their saddle blanket. Often you will see it just used as a civillian type blanket. Regardless of how you use it you will be very happy with this great price for such a well made blanket. It measures 60 inches by 80 inches, some are a little larger but never smaller than 60 x 80.



CS CAVALRY BLANKET

ITEM # 2300 $59.95 BUY NOW!




---
HEAVY BLUE WOOL BLANKET
Our Blue Wool blanket is made from 100% heavy wool. It measures 60 inches wide X 80 inches long which will cover 2 people with room to spare. This is a very heavy blanket that is sure to keep out the cold even on the worst of nights.



HEAVY BLUE WOOL BLANKET
ITEM # 343 $59.95 BUY NOW!




---
HEAVY GREY WOOL BLANKET
Our Grey Wool blanket is made from 100% heavy wool. It measures 60 inches wide X 80 inches long which will cover 2 people with room to spare. This is a very heavy blanket that is sure to keep out the cold even on the worst of nights.

HEAVY GREY WOOL BLANKET
ITEM # 344 $59.95 BUY NOW!

---
ECONOMY GREY BLANKET
This blanket is grey, it measures 60 by 80 inches. It's made from "God knows what" but there could be some wool in there. (If a sheep fell in the grinder!) All I can tell you about these blankets is they are cheap and they are warm. It makes a great ground cloth and when folded double it actually offers some padding. At this price if it gets muddy or you burn a big hole in it "no big deal". Toss it and get another one.

ECONOMY GREY BLANKET ITEM # 344-A $29.95 BUY NOW


---
COLD WEATHER TIPS
For me there is nothing that ruins a re-enactment (or anything else) more than being "too cold". It's not so bad during the day but if it is too cold to sleep---Well if you've ever been there then you would know what I am talking about. The next time you are caught unprepared for the cold weather try this.

A poncho/ground-cloth is one of the best pieces of equipment you can own. If you do not have one it should be your next purchase. Don't wait until you need it because the field sutlers will jack up the price in bad weather and they always run out of them.
Campaign Style
If you can obtain any dry straw, hay, or pine needles do so.
Lay out the straw as long and as wide as your bedding.


1. Lay your poncho black side down on the straw.
2. Lay your blanket down on top of the poncho.


Now when you get into "bed" lay on one 1/2 and fold the other 1/2 over you. The poncho will keep the ground moisture from rising into your bed and the fact that the other 1/2 of your poncho is on top will keep the dew from making your blanket damp. Not to mention the fact that the rubber poncho will trap your body heat better than 2 or 3 blankets.

If you are still cold then don't forget about that great coat!
It makes a "great" blanket in a pinch.



Cover your head!


Most of your body heat is lost through your head. Wear a night cap or your kepi.
Just cover that ugly noggin' of yours up!

If you are using a shelter 1/2 (that's one half, like a lean to.) Where possible turn the open side toward the fire. The shelter will radiate the heat back toward the fire and your back side.


Stay Dry!
Don't over exert yourself and start to sweat. You will pay for it when you stop. And always, I do mean always, carry extra socks. Two extra pairs is always better than one.
Do not wear your clothes to bed. Take them off, fold them up and use them for your pillow or just tuck them under your blanket with you. If you wear them to bed they will be damp when you get up in spite of everything.

When in doubt talk to any old G.I. who has gone through an arctic weather training course. He can give you more tips than I can possibly list here.
It's been a long time since anyone froze to death at a re-enactment.
You don't want to be the next, do you?


---


Click here to see
HAVERSACK STUFFERS
on page TWENTY EIGHT A

Click here to refer back to catalog INDEX page.



www.blockaderunner.com

Phone: 931-389-6294 Fax: 931-389-0486

---
This site designed and created by Blockade Runner Publishing
Copyright © 2018 - No portions of this website may be redistributed in any form without expressed written permission from
Blockade Runner Inc.