MOURNING DRESS
---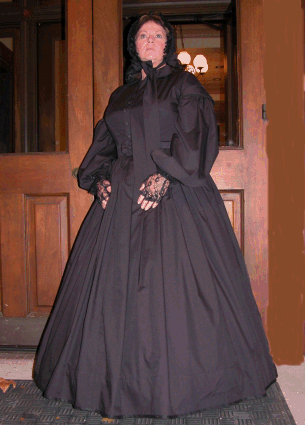 It is a sad fact of war. From time to time we will have need of a Mourning Dress. There is a story that I read some time ago. It appeared in a newpaper that was local to southwest Tn. (Sorry I don't recall which one) The editor of the paper was admonishing the women of West Tennessee and Northern Mississippi for crossing the Union picket lines to shop in Memphis. They were buying black silks, braids and ribbons from the Yankee merchants to make dresses to mourn the Confederate dead!

Our Mourning dress is of the one piece fashion. It has cap sleeves with black braid sewn along the edge of the sleeves. The braid can be "left off" for the initial stages of mourning. The sleeves themselves are from the garibaldi pattern, one matching cloth covered button fastens the cuff of the sleeves.

The dress buttons down the front with buttons covered from the same dress material. There are 5 panels in the skirt with a circumference large enough that it will fit over a 6 bone flounce hoop skirt. There is one pocket in the right side of the skirt for your kerchief. The skirt of the dress has a 6 inch muslin lining on the inside to protect the bottom of the skirt. The bottom edge of the skirt has black hem tape all around.

Also included is a black underskirt that fits over your hoop skirt. A black rosette belt is included with the dress, it can be worn with our without again depending on the stage of mourning.
The price of the dress starts at $349.95
In the photo I am wearing black lace fingerless gloves $9.95 and one of our busk type corsets. Prices for corsets start at $149.95

Each of our bonnets are hand made one at a time. The matching bonnet that I am wearing in the photo is described below. The black ribbed hand made bonnett is made of 100% cotton with a single row of material and a small row of thin black lace on the bottom and around the front of the bonnet. The ties are also 100% cotton which are sewn on the front of the bonnett where the bonnet's skirt starts. Bonnet prices start at $145.95


---
Size 6 ITEM # MD-103 $349.95 BUY NOW

Size 8 ITEM # MD-103 $349.95 BUY NOW

Size 10 ITEM # MD-103 $349.95 BUY NOW

Size 12 ITEM # MD-103 $369.95 BUY NOW

Size 14 ITEM # MD-103 $369.95 BUY NOW

Size 16 ITEM # MD-103 $369.95 BUY NOW

Size 18 ITEM # MD-103 $389.95 BUY NOW

Size 20 ITEM # MD-103 $389.95 BUY NOW

Size 22 ITEM # MD-103 $399.95 BUY NOW

Size 24 ITEM # MD-103 $399.95 BUY NOW


---

Here is an example of our size chart for dresses.

A size 6 would have a 32 inch bust and a 26 inch waist.
A size 8 would have a 34 inch bust and a 27 inch waist.
A size 10 would have a 36 inch bust and a 28 inch waist.
A size 12 would have a 38 inch bust and a 30 inch waist.
A size 14 would have a 40 inch bust and a 32 inch waist.
A size 16 would have a 42 inch bust and a 34 inch waist.
A size 18 would have a 44 inch bust and a 36 inch waist.
A size 20 would have a 46 inch bust and a 38 inch waist.
A size 22 would have a 48 inch bust and a 40 inch waist.
A size 24 would have a 50 inch bust and a 42 inch waist.


Of course we can custom fit your dress to your individual needs.


---

Click here for SLEEVES & COLLARS on page 8

Return to BALL GOWNS, TWO PIECE on Page 7

Return to LADIES FASHIONS home page

E-mail us

Call us from 9 A.M till 7 P.M. at 931-389-6294 or use our 24 hour fax line 931-389-6294

This site designed and created by Blockade Runner Publishing
Copyright © 2009 - No portions of this website may be redistributed in any form without expressed written permission from
Blockade Runner Inc.