SLEEVES & COLLARS
---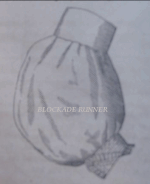 SLEEVES
There is perhaps no greater variations of a single aspect of a ladies dress or shirt than that of the Sleeve. Bishop, Sultana, Pagoda, Demi-Pagoda, Puff, Capped and a veritable plethora of "New Style", as the periodicals of the day liked to call them, that never caught on. The photo right is from Godey's Lady's Book, Sept. 1863.
Oft times this one simple aspect will be the only thing that will identify one style of dress or bodice from another. Below, I will soon be listing for you a few variations of sleeves from civil war period photos, fashion plates and litho.s accompanied by exerts of there description (from dated, period sources) where available. So please check back soon for information on this subject.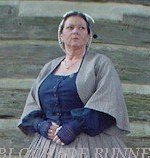 In the photo right Connie has chosen Under-sleeves to match the color of the corsage of her Tea Bodice, which is very lovely look. If she wishes, she can now easily change her undersleeves to those of another color, add a matching color chemisette and off you go.
What could be simpler?
Just a few basic pieces with lots of accessories I say!
Our Cotton Under-sleeves are "cuffed" at the wrist and fasten with a single button.
At thier top they are tied by means of a draw string or held in place by elastic, your choice.



Choose your color first and then press the Buy Now button.

White Choose Now Black Choose Now Tan Choose Now Blue Choose Now

UNDER SLEEVES Item # LA114 $24.95 Buy Now




---
COLLARS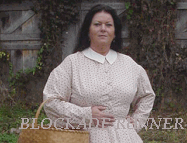 Detachable collars of every description will be easily found while you are researching your impression. Regardless of age, locality or even the economic circumstance, the civil war era ladies collars are one of the great variables of period wardrobes.
Below we have listed several, should I try to list them all, I fear your patience, or by the very least, your interest would wain before reaching the end. So I have chosen a few of the more frequently seen styles.
To your right you see Connie is wearing a detachable, plain white Cotton Collar.
A single button sewn to the inside back of any dress holds it firmly in place.
The front of the collar is closed by means of a single hook and eye.
Very becoming don't you think?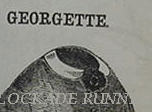 The photo to your right is of a dress that appeared in Godey's Ladys Book
in the November issue, 1860. "GEORGETTE" is the name Godey has given the dress,
not the collar.



We offer our Cotton Collars in 3 sizes. Small fits a dress size 6 through 10,
a medium fits a dress size 12 through 16 and a large fits a dress size 18 through 22.

SMALL White Cotton Collar Item # LA 116 $19.95 Buy Now

MEDIUM White Cotton Collar Item # LA 116 $19.95 Buy Now

LARGE White Cotton Collar Item # LA 116 $19.95 Buy Now



The local general store in the resort town of Beersheba Springs Tennessee records in it's ledger book the following notation.



February 21, 1859. Sold to Martha Smith. 2 collars for her daughters, $0.65 each.
Source; Beersheba Springs Museum.



---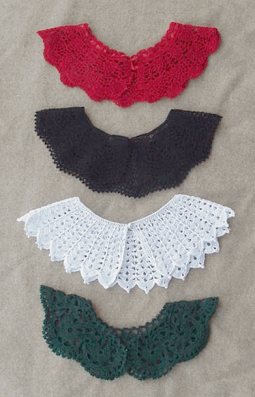 HAND CROCHET COLLARS
Was Crochet Popular?

Our beautifully hand crochet collars are made right here in middle Tennessee. The craftsmanship is exquisite. As with all of the crochet goods, we offer the collars in a wide variety of colors and styles.
They are very fashionable for the period. Godey's Lady's Magazine as well as Petterson's Magazine would list several different projects in each months issue, many of them being collars. As a matter of fact; Godey's May 1863 offers instruction on a very nice little collar similar to the ones seen here.
Judging by the periodicals of the time, I believe crochet worked far out distanced knitting (My humble opinion) as there are far more projects offered for the prior rather than the latter.

Variety is the spice of life, or so they say. And with just a few varieties & colors of collars you can spice up any old wardrobe.
I'm positively certain that the second thought to enter Eve's mind when she chose her first fig leaf was, "You know, this would look really cute with a little vine for a belt!". So go forth and accessarize!

The photo top right shows our 4 most popular styles of collars. Starting at the top we will refer to them simply as A, being the red one, B, being the black, C being the white and D being the green.
Remember we are choosing the style here, you will choose the color further below.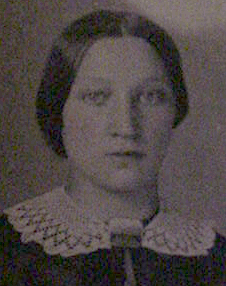 Sorry, Style A is the only collar currently being offered.

Style A, CHOOSE NOW!



Of course the photo to your right is of an original Dag. in our collection. The lovely young lady in the photo has on a beautiful crochet collar not unlike our own.

Now that you have chosen which style of crochet collar you would like it is time for you to choose your color below.



BLACK CROCHET COLLAR # 2039 $24.95 BUY NOW!

WHITE CROCHET COLLAR # 2039A $24.95 BUY NOW! &nbsp

NAVY BLUE CROCHET COLLAR # 2039B $24.95 BUY NOW!

MAROON CROCHET COLLAR # 2039C $24.95 BUY NOW!

HUNTER GREEN CROCHET COLLAR # 2039D $24.95 BUY NOW!

RED CROCHET COLLAR # 2039H $24.95 BUY NOW!




---
Click here for JACKETS & BELTS on page 9

Return to BALL GOWNS, TWO PIECE on Page 7

Return to LADIES FASHIONS home page

E-mail us

Call us from 9 A.M till 7 P.M. at 931-389-6294 or use our 24 hour fax line 931-389-6294

This site designed and created by Blockade Runner Inc.
Copyright © 2009 - No portions of this website may be redistributed in any form without expressed written permission from Blockade Runner Inc.