BLOCKADE RUNNER INC. is proud to offer our customers and friends an assortment of American Civil War and Pre-Civil War Relics, books, etc.
Some are from my collection, from time to time my interest change and I "sell off" one type of relic to buy another. Some of these are brought in by friends and customers. All of them are guaranteed original. They are listed here in no particular order. If the page becomes too large I will categorize them to make your viewing a little easier. Feel free to contact me should you need more info regarding any of the relics listed here.

As always, I'll consider any trade! Any and all relics have a 10 day inspection period and you can return them during that time only with no restocking fee. After the 10 day inspection period there will be a 15% restocking fee. There are no returns after 30 days of receipt.


---

Well this thing is getting a little too large for one page so I'm going to start categorizing it. Just click the link below to go to the topic you would like to see.



ARTILLERY


Projectiles, primers, frag.s, grape shot, etc.



BOOKS


Original books & newspapers along with a few reprints and reference books.



BOTTLES


Original bottles, jars and glassware.



BUTTONS


Original buttons both military and civilian.



EYEGLASSES


Original Eyeglasses of the Civil War Era.



HARDWARE


Original Hardware of all various discription.



IMAGES


Original CDV's, Dags, Ambro & Tintypes.



MONEY


Original Money, Paper & Coin from the Civil War Era.



SOLD


Photos of some of the more interesting items that we have sold lately.


---
CHEWED .69 CAL. BALL
This .69 caliber round ball was found in a CS camp in Wartrace Tn. As the story goes these balls were used by Surgeons when there was little or no anesthesia. The patient would bite down on these bullets to keep from cracking his teeth during the extreme pain of surgery. That would give us a very short window of when this ball was used. The only local battle to produce any amount of casualties was the Tullahoma Campaign which started on the evening of June 23 of 63 and the troops withdrawing from our area (Wartrace) on the 26th. CS troops never reoccupied this area again.



CHEWED .69 CAL. BALL
$29.95 BUY NOW!



---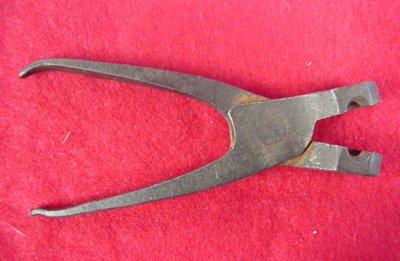 LOCAL FINDS
Here's a good usable .36 cal. mold. The photo above shows actual size. This is an attic find.



LOCAL FINDS REL-K
$39.95 BUY NOW!



---
CHEVALIER OPTICS BINOCULARS PARIS
Once again I have been fortunate enough to find a really good pair of binoculars.The leather on the tubes is intact but not perfect. The leather is missing from the sunshades. The shades to move freely. There is not a dent to be seen. The optics are great, 2X probably better but I don't want to oversell these. I think the new owner will be very happy. At 500 yards I can see that my neighbor has cut the John Deere patch off the cap he's wearing. The adjustment wheel turns freely. I just don't see anything wrong with this pair.



CHEVALIER OPTICS BINOCULARS PARIS
$89.95 SOLD!



---
LAMIER BINOCULARS PARIS
This original pair of binoculars does not have a dent and the optics are pristine. The optics are pristine and fairly powerful, at least 2X maybe more. The leather is gone as is so often the case but it is fairly common to see those who intend to use them in the field to just paint the brass black. The sun shades move but not freely, nothing a little oil won't fix. Here's the bad news, the screw that holds the length adjuster in place is stripped. That means that to adjust the length (to focus) you have to do it manually by pulling the "eye side" lenses out. It's not as hard as it sounds. At their shortest position as seen in the photos it is perfect for my vision. So I don't have to adjust them at all. You may. A larger screw might fix the problem all together. I'm going to let you do the work but you will save almost half the price of a perfectly functioning pair.



LAMIER BINOCULARS PARIS
$59.95 SOLD!



---
7 SHOT .22 SHORT REVOLVER
If you've ever read a C.W. period newspaper then you've seen this gun before. Every copy of a Leslie's or Harper's has a add for this little killer on the back page. Cheap too. This one is made by Rollin White Arms Co. Lowell Mass. Advancing arm works. Hammer locks in place but has a light trigger pull. The cylinder stop works but is too low to catch hand hold the cylinder in place. Should be a pretty easy fix. Good gun for the price. 7 inches total length.




7 SHOT .22 SHORT REVOLVER
# 0000 $349.95 BUY NOW!
---
MILITIA EAGLE BUCKLE
Photo is larger that actual item.

This is non-dug Militia Eagle belt buckle. Very common to find these in dug condition but every now and then a non-dug will turn up. I have the exact same buckle in dug condition that was found at Bushrod Johnson's Military School in Nashville. I think I remember who I bought this one from but since I'm not 100% I'm going to ask them before I say.



MILITIA EAGLE BUCKLE
# 0000 $195.95 SOLD!



---
CS SHEET BRASS CLIP CORNER BUCKLE
Photo is larger that actual item.

This is an original Sheet Brass Clip Corner Buckle. Very likely of local manufacture. It was dug on the Duck River Line in one of Gen. Polk's camps. You know, where Sam Watkins went AWOL from. I don't see how you could get anymore Confederate than this. It measures 3 1/4 by 2 1/4 and has a slight convex shape. It has some small bends that are easily seen in the photos, no surprises. I bought this one from Larry Hicklen years ago.



CS SHEET BRASS CLIP CORNER BUCKLE
# 0000 $229.95 BUY NOW!



---
KEY WIND WATCH CASE
This is an original Ladies Silver Plated Watch Case. The works have been removed but that does not have to be a bad thing - if your smuggling maps through the lines. This is the smaller model of pocket watch typically referred to as a "Ladies Watch". It still snaps closed and opens only when you depress the pin on top. (Where the winding device would be if this were not a key wind case.) Could be used as a locket to put a photograph in. Makes a great prop. Neat old piece at a great price.



KEY WIND WATCH CASE
# 0000 $9.95 BUY NOW!



---
1862 MORNING PRAYER
This is an original 1862 Courier & Ives print called "Morning Prayer". It measures 12 inches wide by 14 tall. It has been professionally framed and matted, ready to be hung. It is exactly as you see in the photo. Very hard to find these prints now days.



1862 MORNING PRAYER
# bo05 $39.95 BUY NOW!



---
CS TIN DRUM
This canteen was dug from a Confederate trash pit in one of Gen. Cleburne's camps right here in Wartrace. If I recall correctly Dwayne Davis was the digger. It has been restored to it's present condition and stabilized. It was mashed flat when found. There is some epoxy, glue and shellac holding this one together. The spout is still attached. The spout in the foreground is an extra that came out of the same pit. There would not be much to this piece if you did not know where it came from. Not everyone has a piece they can definitely say, "This is from Gen. Pat Cleburne's camp".



CS TIN DRUM
# bo23 $129.95 BUY NOW!



---
COTTON CARDS (COMBS)
This marked set of cotton cards are in very good condition, manufactured in Lowell Mass. They are old but still sound enough for heavy use. They may not be civil war vintage but they are made exactly the same as. Even if you don't actually "use" them just imagine what a great prop these will be sitting next to a basket of wool or cotton at the foot of your spinning wheel.



COTTON CARDS $39.95 BUY NOW!



---
ORIGINAL C.W. RELICS FROM MID. TN.
We get a lot of request for specific relics or relics from a particular camp. So rather than us waiting around for you to call we have tried to put together a few boxes of some of our must requested items. All of the items in the photo will come to you in a 4.5 X 5.5 inch ryker glass front display box.
This box contains 1 of each of the following. A saber belt button, a kepi chin strap buckle, a small union eagle button from the same kepi as the buckle and a .58 cal. three ring minnie ball.



ORIGINAL C.W. RELICS FROM MID. TN. #3
ITEM # SP00 $14.95 BUY NOW!



---
US & CS MINNIE BALLS
Original minnie balls that have been dug right here in Middle Tennessee. Most have been recovered from sites of the Tullahoma campaign. Liberty Gap, Hoover's Gap and Guy's Gap. As well as some from the Bell Buckle and Wartrace area, both of which were occupied mainly during 1863. Many of these were "drops", some are fired but all are guaranteed to be at least 90%, there may be a very small ding but very slight or we would not offer them. Many are actually perfect. We have Enfield (smooth sides) and Springfield (three ringers)offered here. Either is a great piece of Civil War history that you can hold in your hand. It's amazing to feel the actual weight of these things and to know that some soldier, north or south had his hands on them 145 years ago.



CS ENFIELD MINNIE $4.95 # 2369 BUY NOW!

US SPRINGFIELD MINNIE $3.95 # 2370 BUY NOW!



---
FIRED MINNIE BALLS
All of these fired minnies are from the Middle Tennessee area with most coming from the Tullahoma campaign. Liberty Gap, Guy's Gap, Hoover's Gap, you get the picture. We try not to include any that are too disfigured. What's the point if you can't tell it's a bullet? Some only have slight dings. If you buy more than one we will try to make sure you get different styles.



FIRED MINNIE BALLS
ITEM # SP00 $1.95 BUY NOW!



---
BONE BUTTONS
We have a new cache of bone buttons just in. Both two hole and four. 3/8 and 5/8 inch. Just let us know which you want and how many. How can you go wrong at only $0.50 each?!



ORIGINAL BONE BUTTONS $0.50 BUY NOW!



---
CS FRAME BUCKLE
Standard CS Frame Buckle. This buckle looks a lot better in person than it does in the photo, I think I "over lit" it. This one has been out of the ground for several years now. It came from General Bates position at the June 1863, Battle of Hoover's Gap Tn. A local Tennessee boy lost this one! It has a crack, just a crack, nothing missing, that has been professionally repaired by Robert McDaniel. You will not be able to find the repair without a magnifying glass. Most folks will tell you he is the top man in the country for repairs, not the state, the country. I hate to give this one up but I've got another I want to buy.



STANDARD CS FRAME BUCKLE $645.95 BUY NOW!



---
CONFEDERATE BATTLE SHIRT AMBRO.
I think this is the only one of these I've ever owned. A quarter plate ambrotype of a Confederate Soldier wearing a battle shirt. It must have been cool that day as he still has his overcoat on. Too bad for us but you can still see a large part of the shirt. I think this one will clean up nicely.



CONFEDERATE BATTLE SHIRT PHOTO $795.00 BUY NOW!



---
Click here to refer back to catalog INDEX page.



www.blockaderunner.com

Phone: 931-389-6294 Fax: 931-389-9111

---
This site designed and created by Blockade Runner Inc. Publishing
Copyright © 2018 - No portions of this website may be redistributed in any form without expressed written permission from
Blockade Runner Inc.